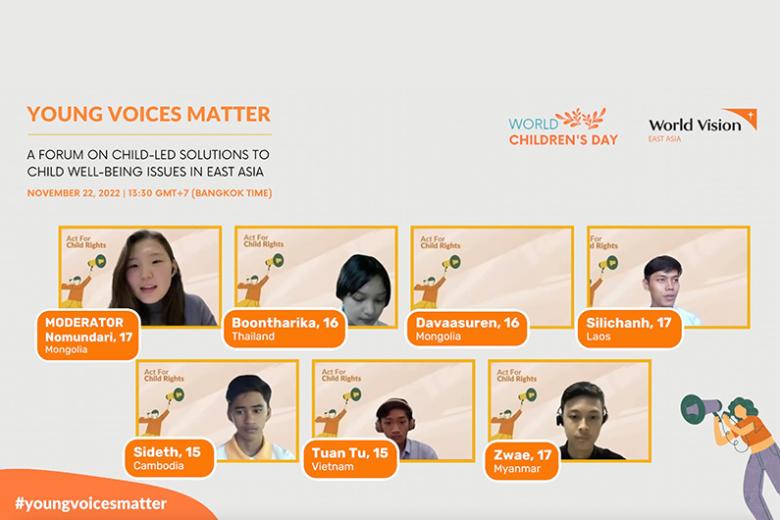 Children in East Asia raise their voices
Friday, December 16, 2022
This World Children's Day 2022, World Vision organised a forum for child leaders from six countries in East Asia to discuss child well-being issues and child-led solutions with each other and World Vision's leadership in the region. 
Objective of the forum 
Children from six countries across East Asia shared their perspectives on issues affecting child well-being along with actions that they have been taking to help address relevant challenges for children within their communities.   
Several child speakers expressed concerns about the climate crisis as well as the impacts of the COVID-19 pandemic on education and violence against children.  
"In Vietnam, 21 million children were at home as schools were closed during social distancing. Children spent more time online which exposed children to potential risks such as cyber bullying or online sexual abuse," said 15-year-old Tuan Tu from Vietnam, who has been an active advocate for keeping children safe online within his community. Between 2019 and 2021, Tuan worked with World Vision under the Tackling Online Child Sexual Exploitation Project funded by the End Violence Fund.
During the forum, the child leaders called on adults to expand the space for meaningful child participation where children and young people can freely and safely engage in discussion and decision-making on issues that affect them. They called on World Vision and other civil society actors to continue to learn from and invest in child-led solutions that can contribute in addressing these child well-being issues.
World Vision believes girls and boys, regardless of their backgrounds, are key change makers, partners in their own and their community's development and champions for children's rights. We are committed to amplifying the voices of children and providing them platforms to express their opinions and be listened to.
Note: 
It is estimated that more than 800 million children – 140 million from Southeast Asia have experienced disruption in their education since the start of the pandemic(1). Despite schools opening, the enrolment rate has decreased compared to recent decades with an estimated 4% of school children in Asia at risk of dropping out of school.   
===
(1) UNESCO and UNICEF