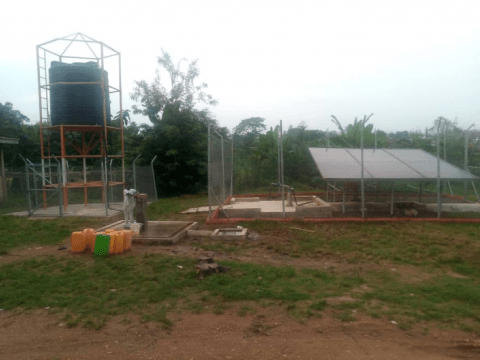 The connection between learning and access to potable water
Tuesday, November 17, 2020
The idea of waking up before sunrise every morning and spending hours walking just to find water for domestic use was unbearable –as was standing in a queue to access muddy, unprotected, and unsafe water from a stream shared with livestock and other animals. On top of this, imagine constant suffering from stomach pain and diarrhoea, and losing children to water-related diseases. This is the account of Mr. Agbenyo, an opinion leader during a monitoring visit to the Poase Cement community on water, sanitation and hygiene (WASH) before World Vision came in.
Though the community had two boreholes, the population of the community far outweighed the capacity of the available facility.  Because of this, women and children had to queue to access water from the boreholes while others were forced to access unsafe water from streams for domestic and other uses.  The situation affected school children's attendance because the children either got to school very late, tired, and would even fall asleep during lessons, or they did not attend school at all.  School Health Education Programme (SHEP) activities in the schools located in the community were not as effective as a result of the difficulty in accessing potable water.
In 2018, World Vision's Kadjebi Area Programme through its GI-WASH project intervened and mechanised one of the community's high yielding boreholes. The intervention was to help more people get access to potable water and to improve SHEP in schools. This has improved personal hygiene among children in schools and the community members at large 
"My siblings and I had to wake up as early as 3:30am to access the borehole or travel about 2km to fetch water from the stream each morning for our households before going to school. This practice always made me late and tired and sleeping during lessons or not attend school at times. On days that we wanted to get to school early, we had to use the after-school hours of the previous day to search for water after which we were unable to learn at home thereby affecting our academic performance" narrates by Justina, a JHS 2 pupil of Poase D/A Junior High School.
Justina and her siblings, like other children, no longer wake up that early searching for water or to fetch from unsafe sources, as the community has more water points with more standpipes (taps). "Now I have time to learn after school and I concentrate better in class as I do not have to wake up early to search for water before school or queue for potable water. We are grateful to World Vision; children like myself are now focused on my studies" Justina says with a great sigh of relief. Her ordeal and that of several other children in the Poase Cement community of school-going age is now over. Justina and other children's lives have improved through the provision of potable water by World Vision in the Kadjebi District.
The Assembly Member, Hon. Richard Avitsinu speaking about how Poase Cement and other communities are benefiting, also expressed gratitude to World Vision for "improving the water situation of this community."
With potable water, learning is improved for the better.