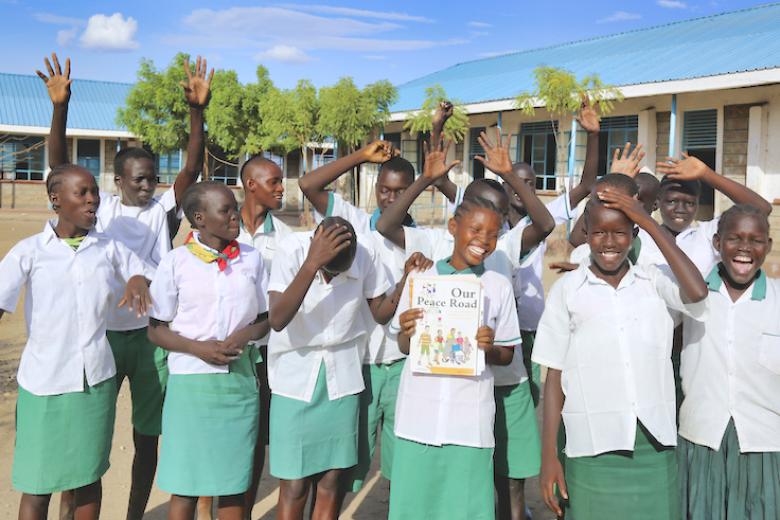 A better future for every child: peace clubs in schools enhance peace and harmony among communities
Wednesday, November 17, 2021
By Martin Muluka, Communication specialist, World Vision.
Rier spots a big smile as she strides confidently towards her academic dream in St. James Optom Secondary School.
She is one of an inseparable trio of peace club ambassadors that have demonstrated that children are the heart of the community and that they can enjoy life in its fullness with a better future if they are taught about the significance of peace.
"My family moved to the Kakuma Refugee camp in 2012 from South Sudan following clashes between the Nuer and Dinka communities. I was only eight years old then and life was difficult because I was separated from the people that I loved," says Rier.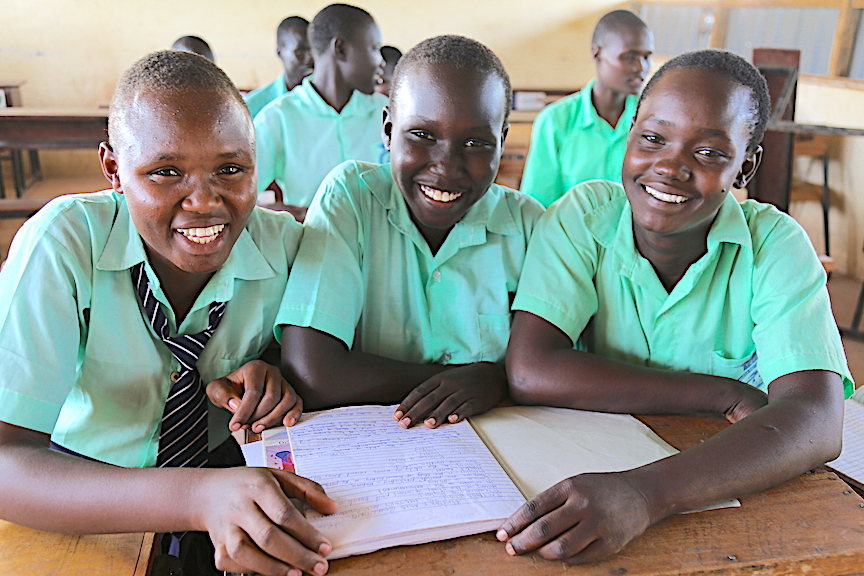 She adds: "My parents said we had come to find peace in Kakuma. I thought it was the end of the violence. But sadly, in school there were children who looked down on me and did not treat me well because I was a Nuer and a South Sudanese, and they are of a different nationality. At home, I would be told who to be friends with and where not to go because it was not safe to mingle with people that disliked me due to my nationality. I got used to it and accepted that as my world."
While going through this ordeal, Rier became increasingly bitter in life. She could not understand why she had to live in a society that kept fighting or getting into conflict with each other due to differences in nationalities or tribe, yet they were all human beings.
"I grew bitter because I felt everyone was responsible for my suffering and separation from family members and friends back home that I don't know if I will ever see again," she says.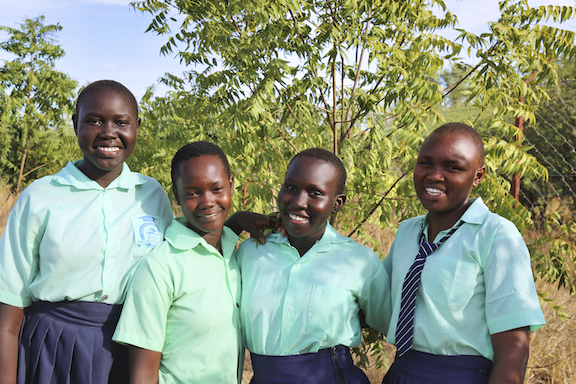 Since her family had fled their home and moved to the Kakuma Refugee Camp in search of peace, Rier assumed that the solution to the segregation problem she was facing at school could only be tackled through moving from one school to another.
As such, she kept changing schools in the refugee camp and only stopped the migration once she moved to a school outside the camp, which is attended by children from the local Turkana community in Kenya. 
"It was hard for me to make friends and I used to sit alone most of the time. I had heard about peace clubs in other schools but never considered joining any. Here, I met  Alimlim who introduced me to the peace club and has become more than a friend to me. I was won over by her genuineness and care, even though she comes from Kenya's Turkana community and I am a Nuer from South Sudan. She taught me that I could care about someone from a different community too."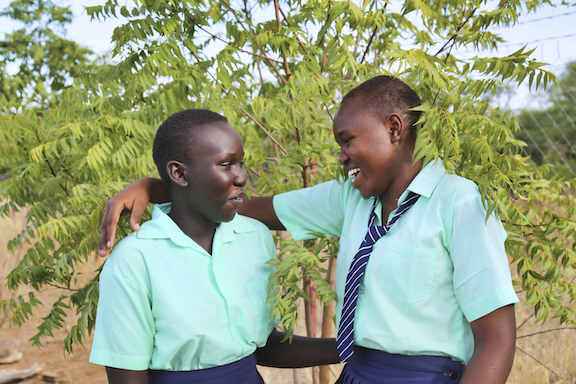 These peace clubs, which are 41 in total, were established through World Vision's Empowering Children as Peace Builders (ECAP) project at the Kakuma Refugee Camp. The clubs use the Peace Curriculum developed by the organisation to foster peace amongst communities through the use of children as peace ambassadors.
"Through regular club meetings led by the chairlady Alimlim, I found peace within and found friends from the most unlikely places - communities that my family considered enemies. I met my best friend Agum from the Dinka tribe. We shared a lot with her and I discovered that we were both pursuing peace. The challenge was how our friends from our communities would take it. Our persistence stories and challenges tightened our bond and now others are used to it. As a result of our unique friendship, more children were encouraged to join peace clubs and even play together.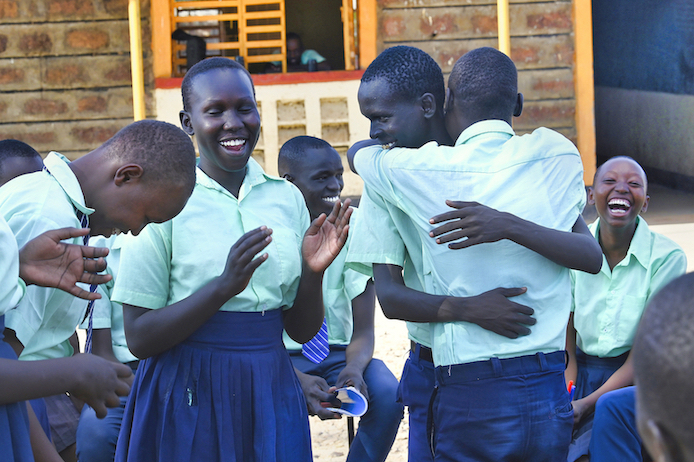 In the neighbouring Vision Secondary School, Kuok, the captain of the school's football team leads his classmates to partake a physical education class. He remembers the journey his community has travelled in using sport to champion peace and how personal differences can cause violence.
"In 2018, I was a young player in our community team called 99. An argument arose between our Sudanese coach and a South Sudanese player. What started as an argument between two people quickly escalated to a full-blown conflict between communities which led to the relocation of some communities," says Kuok.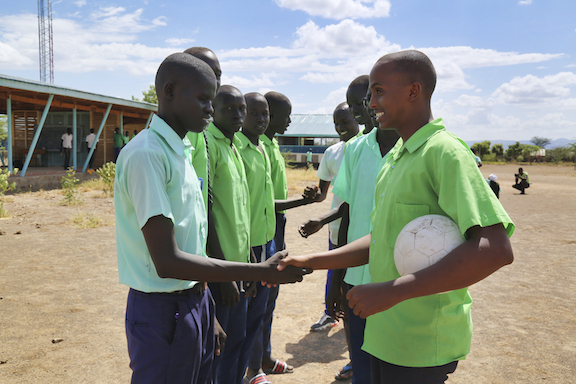 He adds, "I underwent training on peace by World Vision that has helped me lead the team as a role model and captain. We hold regular meetings with players before interschool and intercommunity matches. Before the training, football used to separate us but now it has brought us together. I learnt as a player that when I enter the field, a win, a loss, an unfavourable decision or injury is likely to happen. It is my duty to accept that and know that my fans and community's reaction depends on my behaviour. Our motto is to kick violence out and score goals of peace."
Martha, a teacher and peace club patron at the school notes that students have been instrumental in bringing peace in the school and enhancing discipline. Unlike before, she notes that teachers now correct learners without the fear that it will lead to conflicts stemming from cultural differences.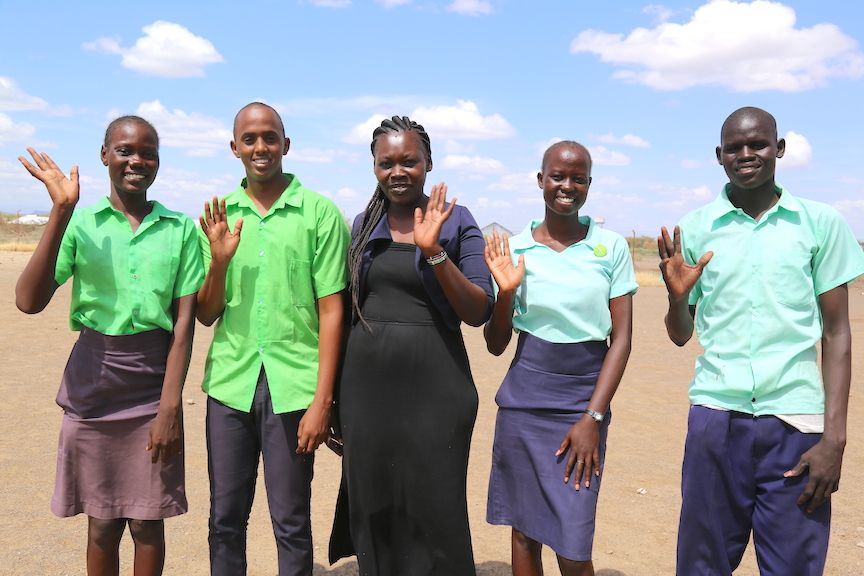 "Our school was affected by conflict in 2018, I feared for my safety and contemplated relocating to another section of the refugee camp with my community. I was sad because it felt like a repeat of the political violence that made me move from Sudan to Kenya. To my surprise, my students visited me and encouraged me to stay. Things are much better now; we have a bond beyond school and do projects like planting vegetables in school. I visit my students at home because for them, especially those whose guardians have opted to relocate to their home countries, I am their mother," she says.
Onesmus the headteacher of Kalobeyei Primary School in Turkana County is appreciative of the role that peace clubs have played in enhancing harmony and discipline in the school and community at large.
"For a school with a population of over 4,000 pupils from diverse cultural backgrounds and nationalities, peace is instrumental in maintaining order. We used to have cases of conflict in school and in the community but that has reduced significantly.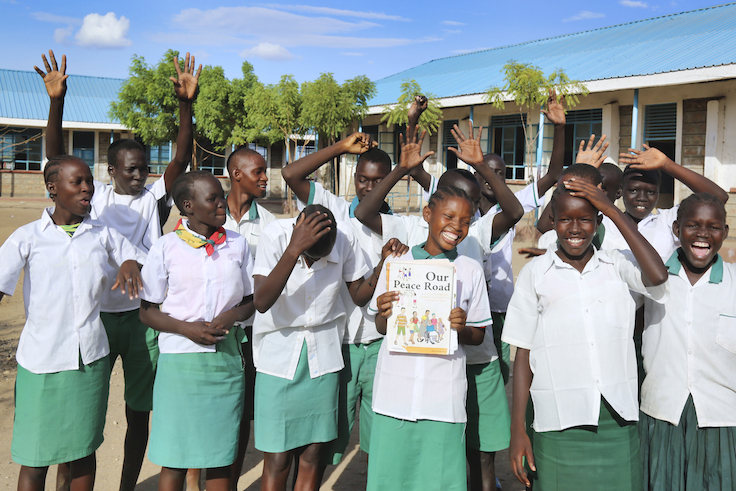 Santa from South Sudan and Eulale from Congo, are walking the talk as leaders of the peace club in the school. They don happy faces as they carry out various activities.
"Santa is my best friend in the world now. We were not friends before, even though we stay in the same village. We used to fear making friends with children from different backgrounds but the training brought us together. After school, we usually go to my home first and help each other do chores then we go to Santa's home. Our parents have gotten used to it and have become friends too because we stopped preaching negativity and embraced positivity. We were in darkness but because of peace, we see light at the end of the tunnel. By destroying chords of violence and singing chords of peace, we stand united and not divided. As children, we chose to represent an equitable world because we are the future," says Eulale.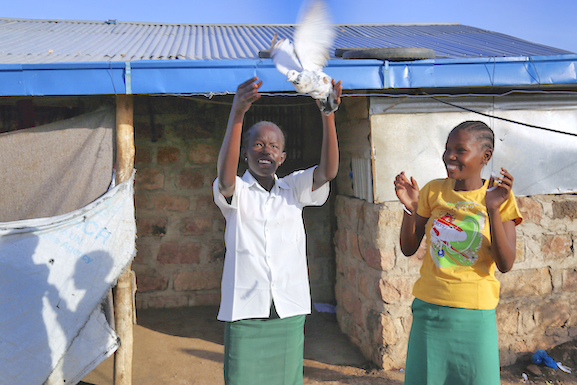 She adds, "Girls my age and women meet at water points to fetch water after school. Disagreements were common at the queue as patience ran out. Using what we have learnt in the peace clubs, we are able to diplomatically solve the disagreements. It's easy because most of the students are from our school and they have now become orderly. People used to fear visiting friends from other communities but that has changed. Those were tough times but they didn't last because we are tough. Because of our friendship, we started rearing doves and just like the peace in the community, they are growing in numbers."
Gallery below: Photos showing children enjoying peace.