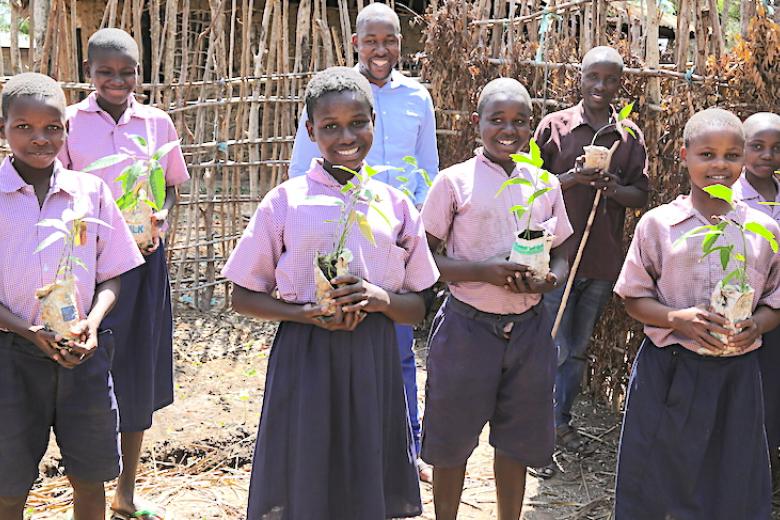 Children Contribute to environmental Conservation through tree planting
Monday, October 25, 2021
By Martin Muluka, Emergency Communications Specialist, World Vision Kenya
At Kulesa Primary School in Kenya's Tana River County, 14-year-old Patience is tending to tree seedlings and vegetables at the institution's farm with a beaming smile.
As the leader of the school's environment club, Patience is keen on curbing land degradation and mitigating climate change effects in her community – such as frequent droughts and insufficient rainfall - through tree planting and revival of indigenous tree species in their school and village.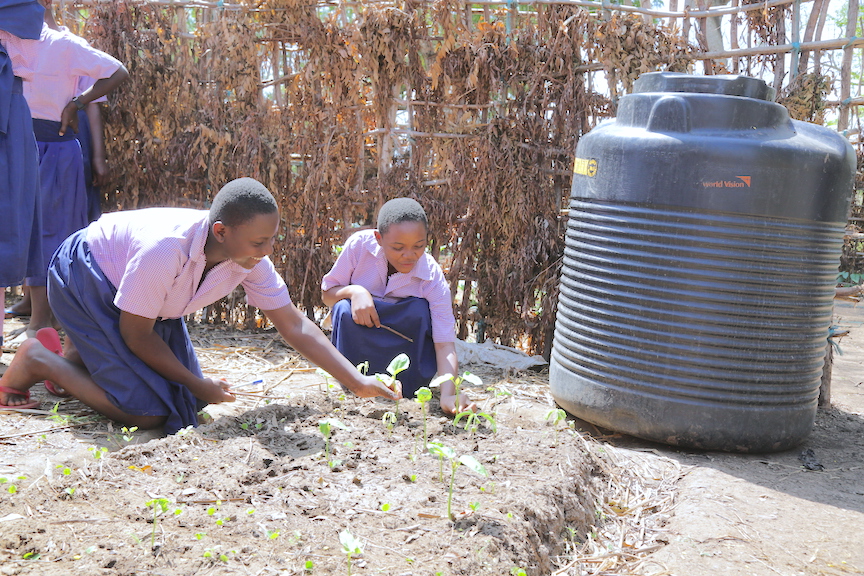 "I saw drones flying over our school. Initially, I didn't know what they were or what they were doing. A World Vision member of staff visited our school and told us that they were using the drones to identify suitable locations for planting trees so as to increase the tree cover in our community. He talked to us about the important role trees play in protecting our environment," says Patience.
She adds, "I got an idea of starting an environmental club in our school because I felt the urge to help and make my school better and green. Though we were few when we started, the club membership has grown to 25 members currently."
The sensitisation given by World Vision struck a chord with Patience, especially when she discovered that the lack of trees was a major contributor to insufficient rainfall and frequents droughts that her community experiences. This training was done through the organisation's Tana River Climate Change and Livelihood Restoration Project (T-CLIRP).        .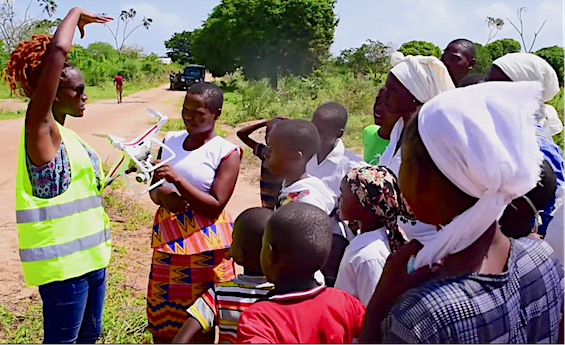 "Touched by her passion, the school's administration later gave the club land for establishing a tree nursery of indigenous tree seedlings for planting," says Dawin a teacher and patron of the club.
Patience notes that she was inspired to embrace tree planting in collaboration with her friends. Teacher Dawin made this a reality through his guidance and mentorship.
"We started by erecting a fence around the garden so as to protect the nursery. Then, with the help of our teachers, we collected enough seeds from the villages around, which we have planted in our nursery and they are coming up really well. We have gathered seeds for different varieties of trees, including fruit trees like mango which are in neighbouring villages and not ours," states Patience.
Thanks to a water tank donated by World Vision, Patience and fellow club members have sufficient water, to water the seed beds.
Once the tree seedlings are ready, they will be transplanted to different sites within the school and village, where they can grow into big trees that will bring numerous benefits to the community.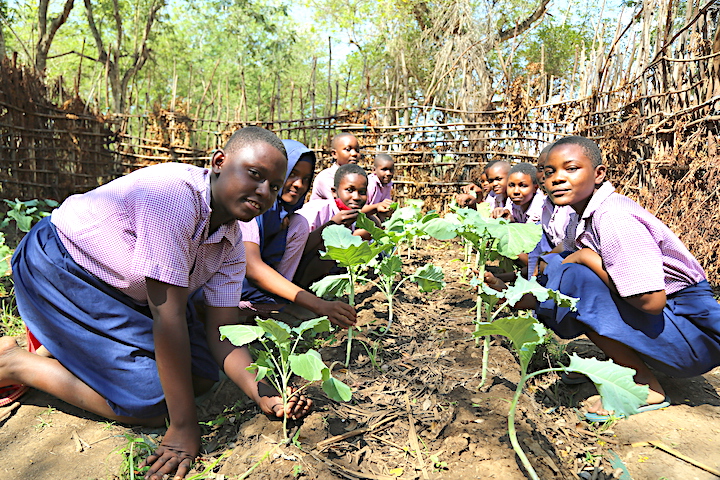 "With water available, we decided to expand our plot and plant vegetables too. Most of our families have been affected by drought and other challenges brought by the COVID-19 pandemic such as unemployment and reduced incomes. There wasn't enough food at home and most of my friends would struggle to learn because of the hunger they were facing. But now, we have enough food at school because of the vegetables, which we eat and also sell to buy other food items such as maize flour and learning materials," notes Patience.
The school's tree planting initiative is complementing broader efforts by World Vision, the government and other key stakeholders that are aimed at rehabilitating degraded land caused by an invasive species known as Prosopis Juriflora (locally referred to as mathenge).
Over the years, the invasive species have been colonising and destroying indigenous trees, pasture and vegetation that livestock rely on. Due to their colonising nature, they also impede food crops from growing well in people's farms.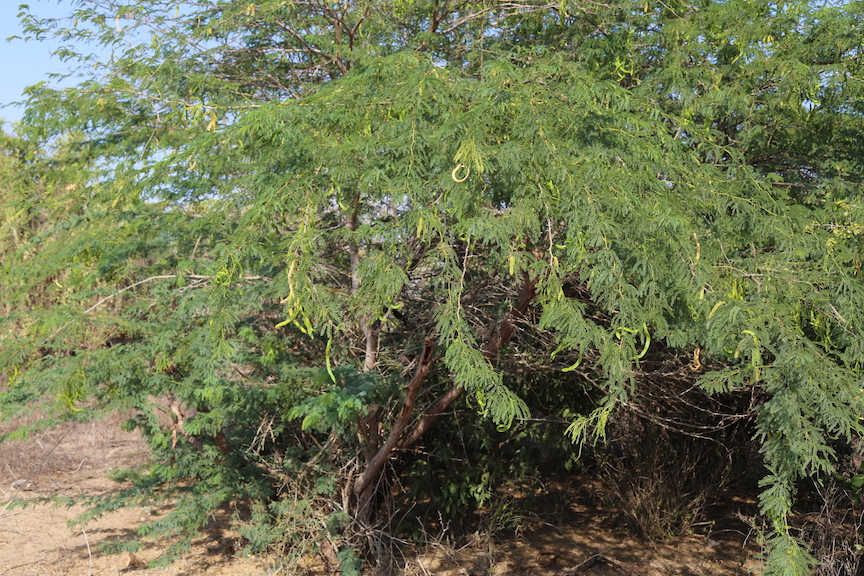 In addition, the rampant spread of the invasive mathenge plant has also caused blockage of roads, foot paths, human settlements, irrigation canals, river banks and water points. It has also been causing death among livestock that feed on its pods.
"The affected areas have been mapped using drones and the invasive plants will be cleared. When the rain season starts, we shall move to the next stage of ecological rehabilitation by doing arial broadcast of tree seeds," says Collins, a World Vision Project Officer in charge of the initiative in Tana River.
In Vumbwe, a neighbouring Village adversely affected by the invasive species, Abijila is optimistic that the project will help alleviate their problem and enable them to earn a livelihood through trees and improved land productivity.
"I used to have many trees on my farm but most of them have been overrun by the Mathenge invasive species. Though the remaining trees still provide a good shade and flowers for bees, planting more will help me to continue earning a living and earn profit from my beekeeping venture," he says.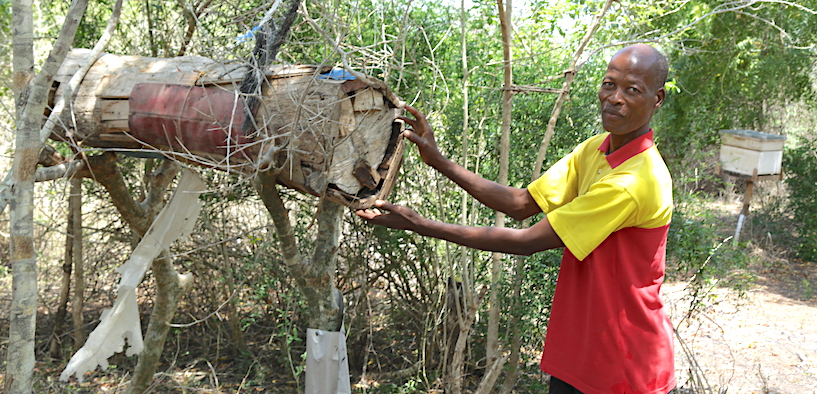 "I now save and invest money earned from the sale of honey unlike before, thanks to the training that I received from World Vision. As a result, I am now able to meet the basic needs of my children. Recently, I bought a solar panel that allows them to study with good light in the evenings. Before, I used to rely on paraffin which was costly and the supply was irregular." 
According to Abijila, the destruction of the invasive species and increased tree cover will enable him to expand his business through the purchase of modern hives.
To help conserve the remaining trees in the village, World Vision has also trained women on how to make energy friendly jikos (cookstoves) which consume minimal firewood.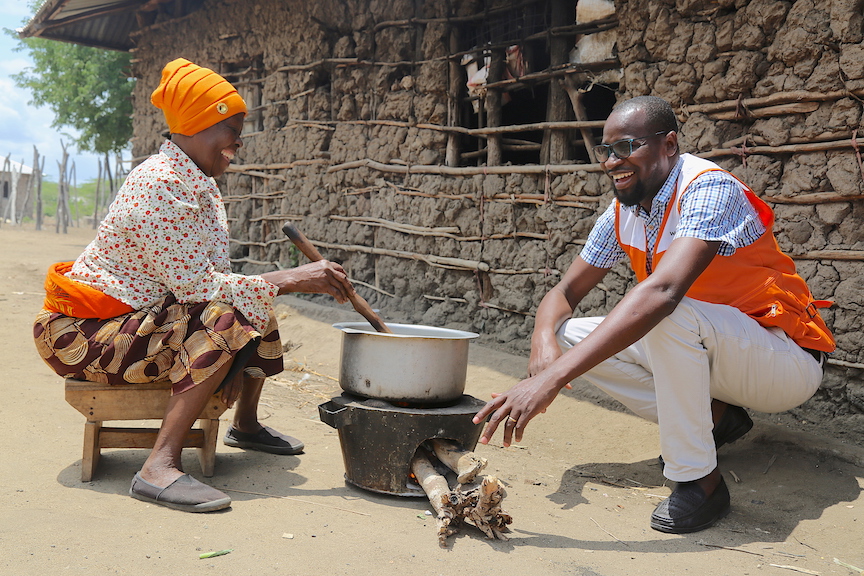 "This jiko has made my life easier, I use very few pieces of firewood and the smoke is not a lot like before, when I used to use the open fire for cooking," says Hasera, one of the beneficiaries of the training.
*Featured Photo at the top: Members of the Kulesa environmental club at their garden.
*Photo gallery: More photos showing what the communities are doing to conserve trees.