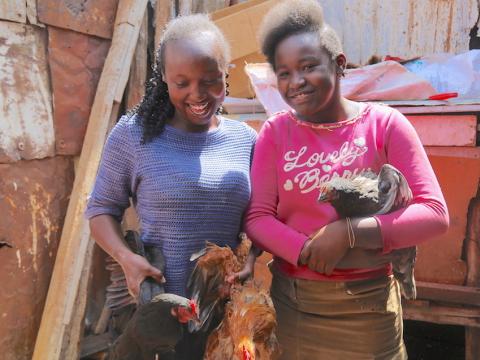 Empowered Kenyan youths pursue career dreams and run thriving businesses in informal settlements
Sunday, September 12, 2021
By Irene Sinoya, World Vision Communications Specialist, Kenya
The joyful faces and smiles of Lucy and her sister Jacinta are a sight to behold. Their bouts of laughter and giggles fill the air as they feed their chickens in their home at Kariobangi in Kenya
The girls live in the slums with their mother who struggles to provide food and take care of them.
 After completing her secondary education, 20-year-old Lucy was unable to go to college because of financial challenges.
Despite making several attempts, her mother who has no major source of sustainable income could not raise school fees for her eldest daughter.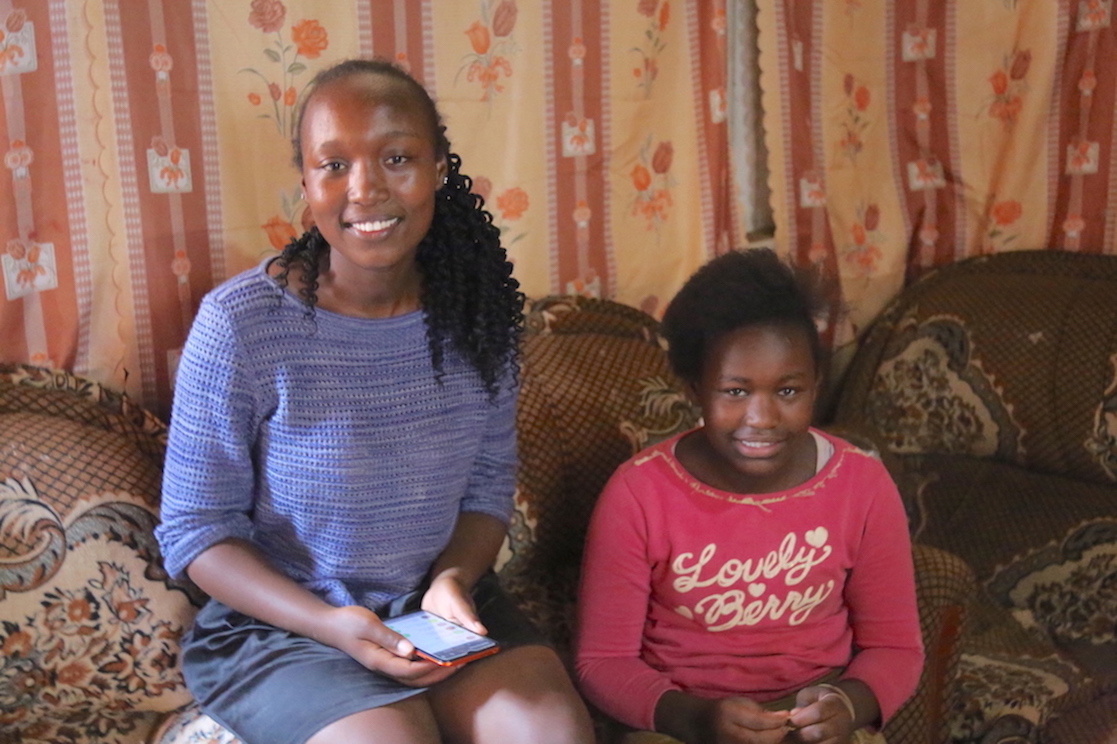 Tides began changing for the family after Lucy was selected to be part of World Vision's Youth Works Project in Kenya, which is funded by philanthropists from Canada.
It offers life-skills training to the youth, whilst giving them higher education scholarship opportunities for learning.
"I was in church one day, when our youth leader informed us about a youth project that was advertised by World Vision. He said that the project was targeting high potential youth, who were willing to continue with post-secondary education but were experiencing financial challenges," says Lucy.
"When I heard that school fees and support would be provided to help the youth complete college training or education, I applied for that opportunity and by God's grace I was selected. It was the happiest moment in my life", she adds.
In January 2020, Lucy was able to join College to pursue a Diploma in Electrical Engineering. She is the only girl in her class pursuing that course, which makes her outstanding in everything she does.
From the business and entrepreneurship skills that Lucy has acquired from the project, she has been able to establish a poultry business.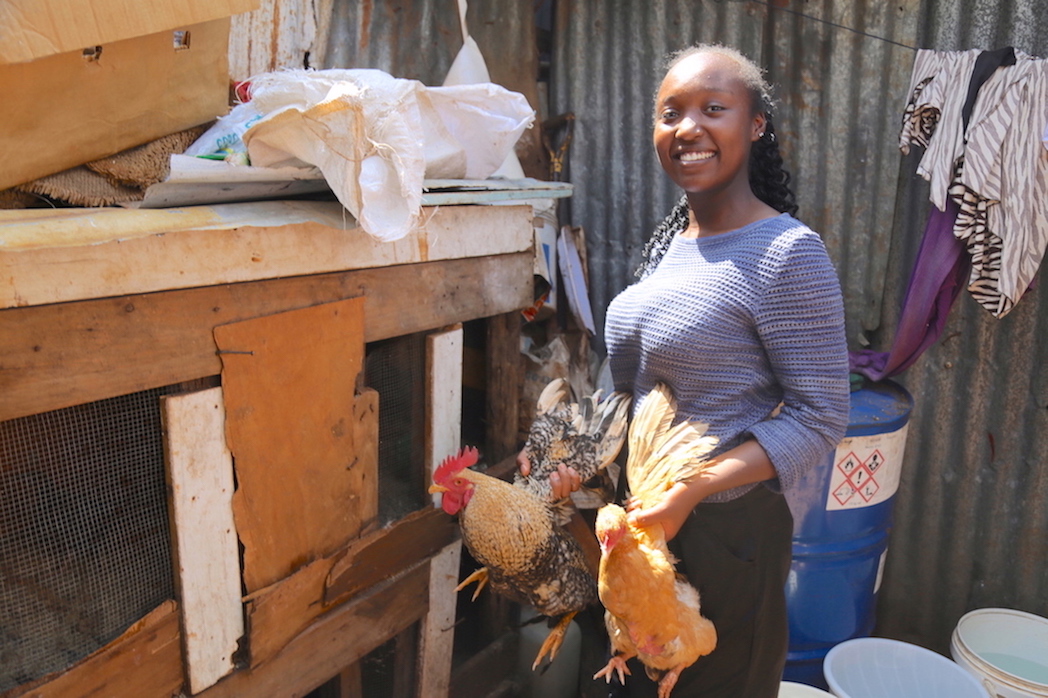 "I decided to do a chicken project. I constructed a small chicken structure and bought ten chicks. Five of them died at an early stage, but the remaining grew and started laying eggs. I sell eggs daily, which gives me income," she says.
Despite having limited space at home, Lucy has been able to manage the project by maintaining a small number of chickens.
She is determined to help her mother meet expenses for food and other basic needs, while at the same time saving some money to ensure her younger sister continues with her education.
"I don't want to see my sister struggling the way I did. I am working tirelessly on my project to ensure that I provide her with all she needs," adds Lucy.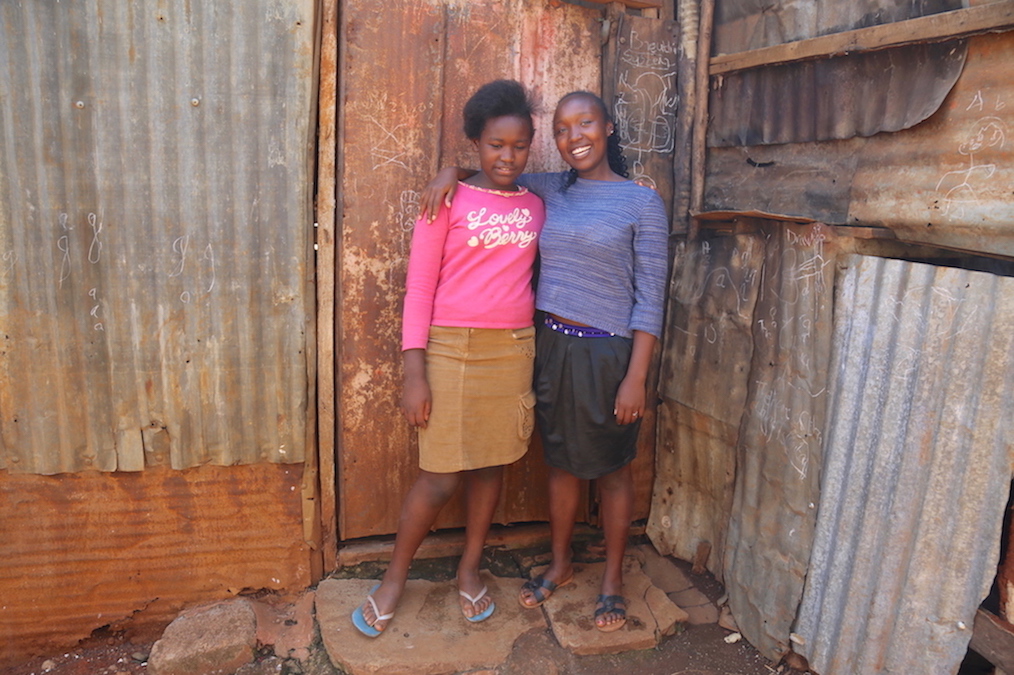 She encourages other girls who stay in slums to start small projects that will keep them busy while at the same time generating additional income for their families.
Lucy's dream is to change the economic status of her family.
She states, "the Youth Works Project opened doors for me. Many girls living in slums don't go to school due to the lack of finances. Now that I have this chance, I will work hard to change the status of my family. When I get a job in future, I will also sponsor some of these girls.