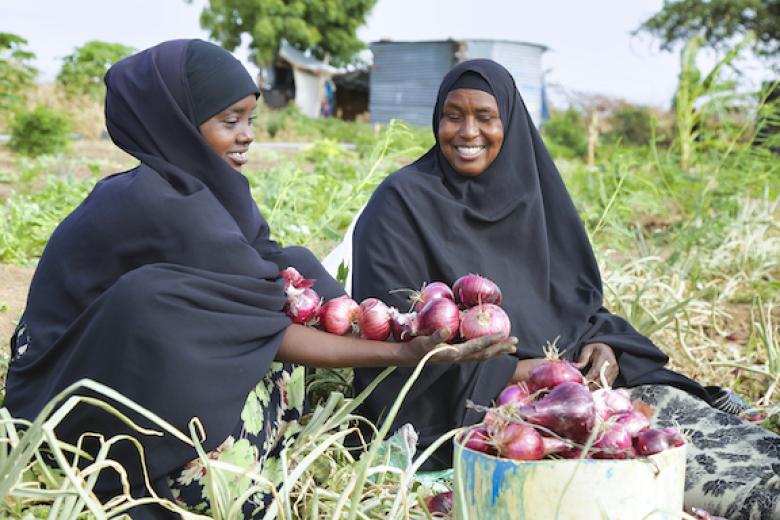 Grass preservation and crop farming enable communities to beat devastating effects of drought in Northern Kenya
Thursday, September 2, 2021
By Martin Muluka, World Vision Communication Specialist, Kenya
The drought in Northern Kenya has wreaked havoc on communities, wiping away vegetation and leaving the land bare.
Most families are struggling with the hunger crisis, even as their livestock waste away or die due to lack of pasture and water.
But in a one of the villages at Habaswein in Wajir County, the situation is totally different. Healthy livestock can be seen in fields, as families tend to their farms and make bumper harvests of food crops, which are adequately sustaining them as the drought bites in other parts of the county.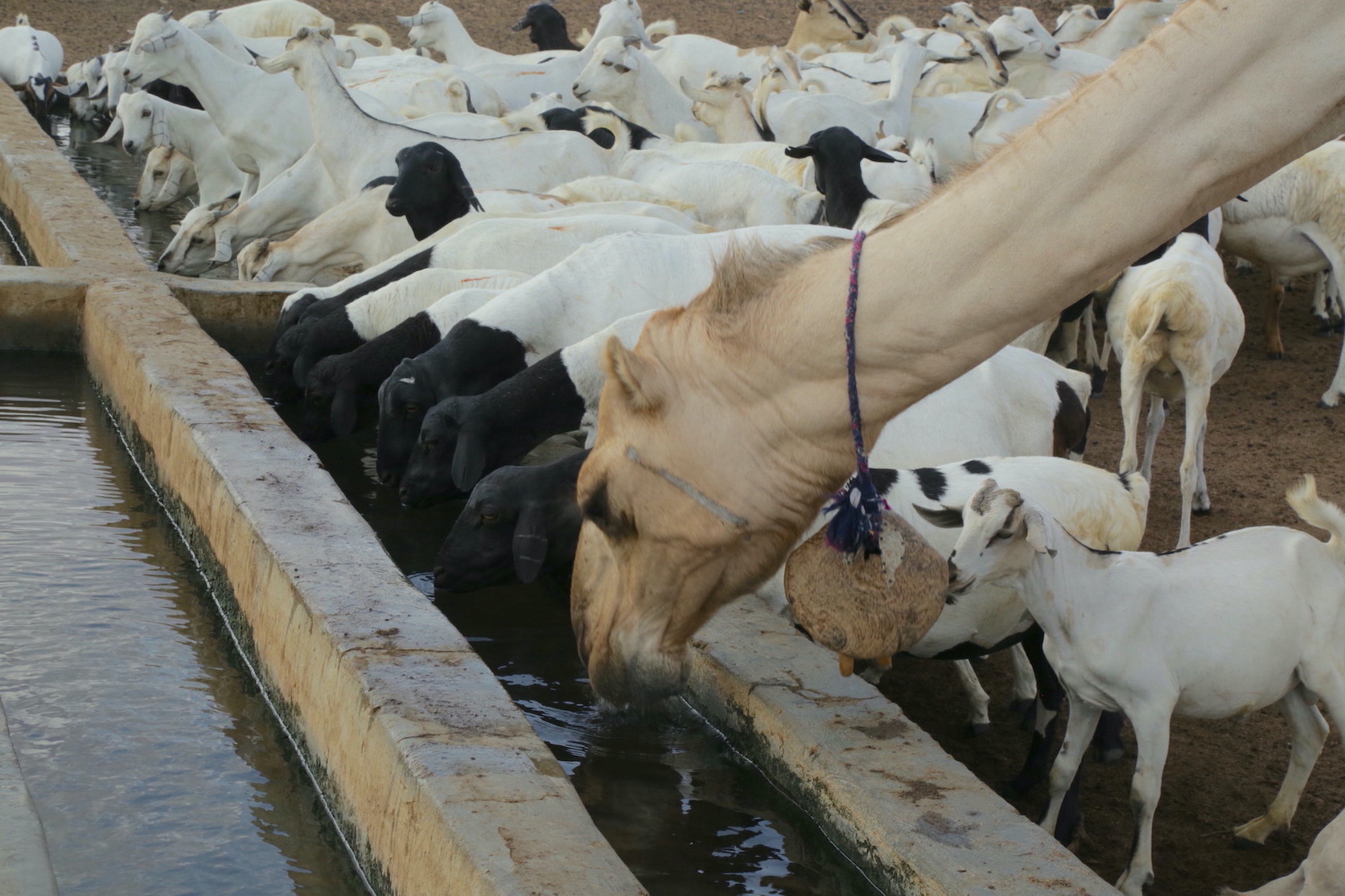 This transformation is as a result of World Vision's disaster management initiatives that are helping to build the resilience of communities against drought.
Most of these initiatives are being rolled out under the Kenya Emergency Response Project (KIEREP), through the support of the USAID's Bureau for Humanitarian Assistance.
Abdi, one of the pastoralists in Habaswein notes that over the years, he has been losing livestock during periods of droughts in the country.  But this year, his goats and camels are still alive and healthy.
"My animals used to die because they had nothing to eat. Sometimes, I would be forced to sell them at a throw away price due to their deteriorated body conditions. So, I am very happy that I still have them here even though we are experiencing the drought," he says.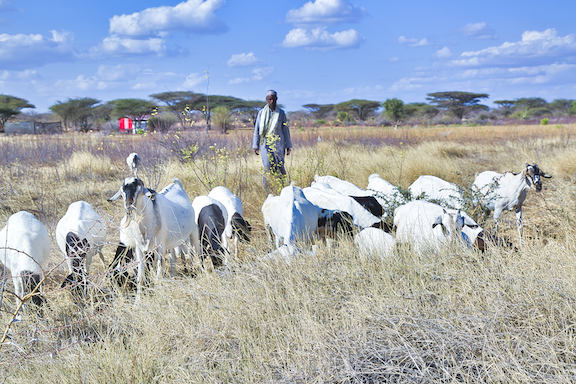 Abdi is among the many pastoralists in his village who attended a World Vision agricultural workshop in 2019. Participants were trained on effective techniques for growing grass and storing it in form of hay, for use during dry spells.
Through a Trainer-of-Trainers model, the trainees went back home and spread the message to other pastoralists so they could all benefit from the lessons.
Then, they joined hands and began the grass planting and hay making journey together in a huge piece of land, known as the Fini farm, which could cater for their needs.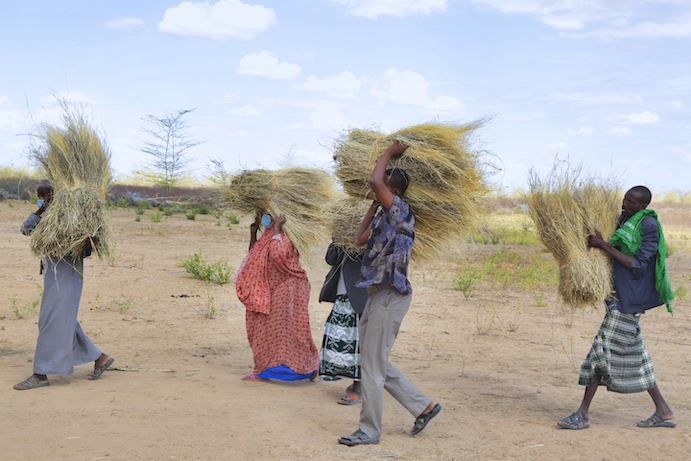 Aside from the training, World Vision also provided a boost to this initiative by drilling a borehole equipped with storage tanks and a pipeline that supplies water to the farm.
"The main challenge we used to face in our village was the lack of water.  With access to sustainable water supply , we were motivated to grow the grass and we can do it all year round through irrigation," states Abdi.
Thanks to their hard work and commitment, the hay that Abdi and fellow pastoralists have been making since 2020, has enabled them to have sufficient pasture for their livestock amidst the ongoing drought in Wajir. Their animals also have enough drinking water that they get from water points linked to the borehole.
"Water is everything here.  With it, I have been able to do a lot. During this time of drought when many people are migrating to other areas in search of pasture, our village has remained intact because we have all we need for our animals to thrive. Since we are not migrating, immunisation programmes and education that benefit our children will no longer disrupted," he says.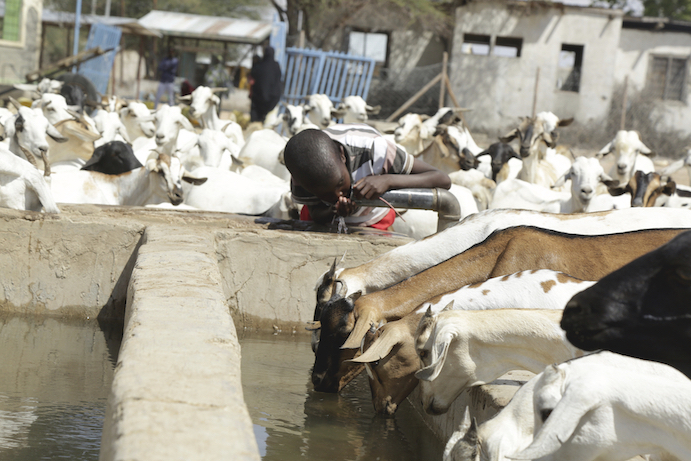 The availability of water and abundance of hay has also reduced inter-communal conflicts that were previously driven by the stiff competition for limited pasture land among pastoralists.
Abdi adds that they now have more than enough grass for their livestock. They are therefore able to sell some of the hay and get income for their household needs.
"Many people come here to buy hay. And even if we decide to sell some of our animals, the prices will be good since they are in good health and have a good body weight," he says.
According to Abdi, he has sold over 1,000 bales of hay, which have given him money to buy farm inputs and machinery for the next planting season.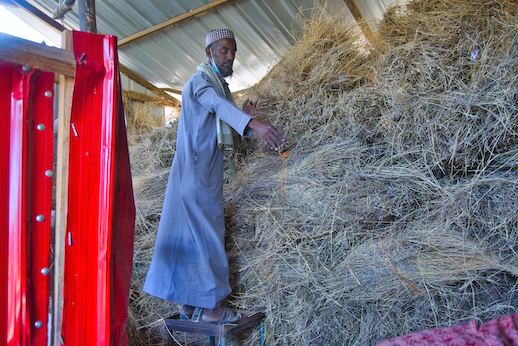 "There are still seven hectares of grass that have not been harvested. This is enough and will be able to sustain us until the next rainy season. This farm is a blessing to my community because we get enough income for our needs like school fees and food for our children. We also share some of the bales of hay – at no cost – to people from neighbouring villages who are in need but can't afford to buy them. As pastoralists, animals are our lifeline and their well-being is important for our survival," he says.
Instead of just focusing on fodder production, World Vision has also empowered the community on climate-smart agricultural technologies that have encouraged families in Habaswein to embrace crop farming and boost their household food security.
This is an area that women have been passionate about, since they used to struggle to get sufficient food - with a high nutrition value-  to prepare for their families during the dry season.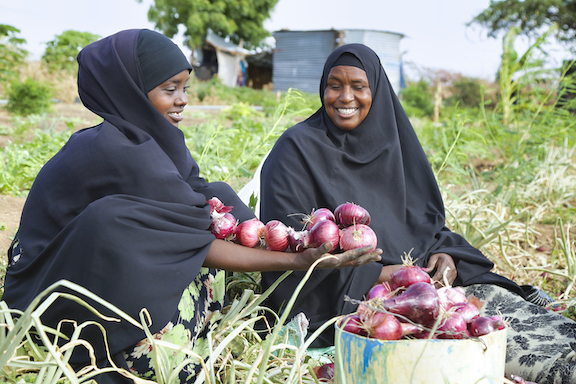 Kafia, one of the beneficiaries of the training notes that the knowledge they gained and the availability of water for irrigation has really changed their lives.
"We are happy because we keep enjoying good harvests. This year, we harvested more than enough onions, vegetables, pepper, fruits, tomatoes and maize that give us nutritious food for our children and families. We also sell some and get cash for other household needs such as buying books, clothes and taking our children to hospital," she says.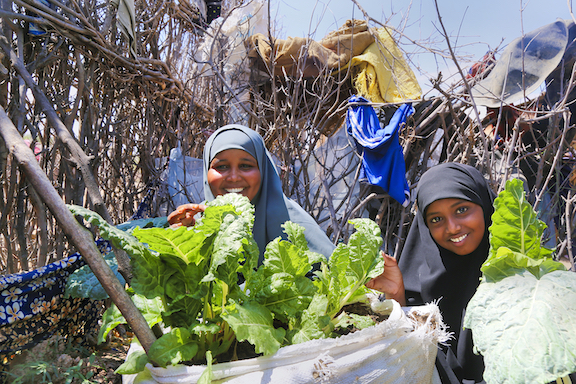 Kafia is also glad that the fruit trees and vegetables are helping boost the immunity of children and pregnant women, who are usually at risk of ailments or complications that are linked to malnutrition.
"We have been targeting expectant women and those with children below two years. We teach them about recommended nutrition requirements and ways in which they can easily grow crops that will improve their health and the well-being of their children," she says.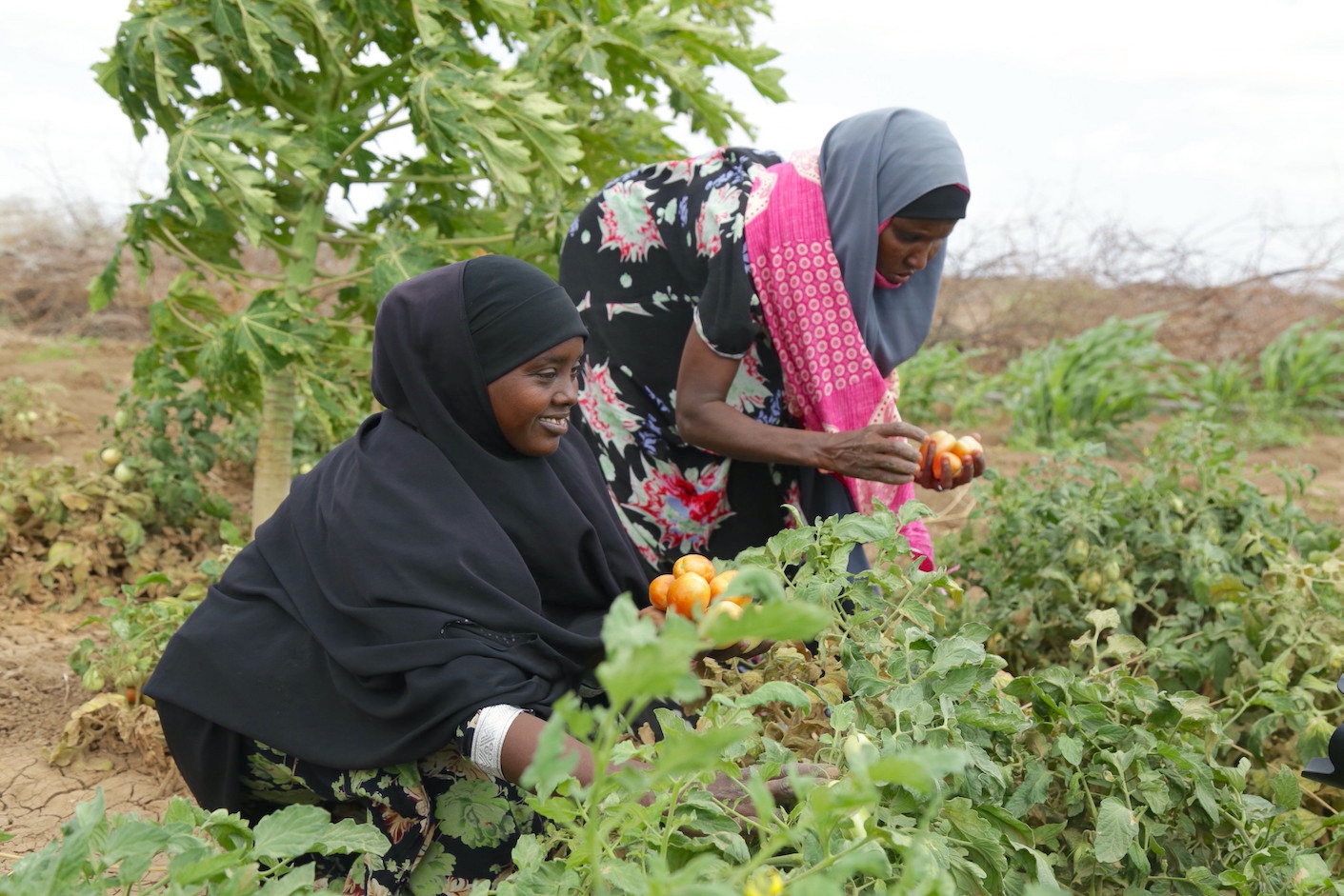 With the abundant pasture and water for livestock, families are also able to get meat and milk, which are good sources of protein and minerals that keep people healthy.
"We basically have all we need to ensure that our families enjoy balanced diets from food that we produce in our homes.  As women, this makes us really happy!" Kafia states.
Photo gallery below: Photos showing the impact of World Vision's disaster management interventions that are building the resilience of communities to droughts in Northern Kenya.