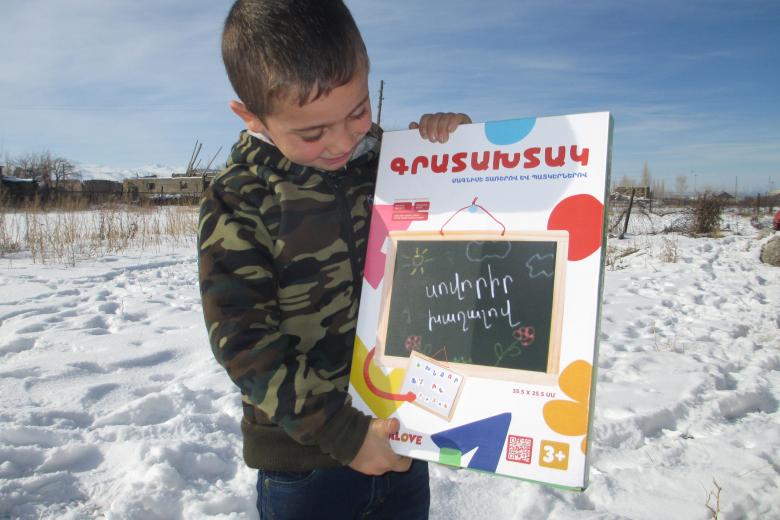 2408 children received their Christmas presents thanks to #SecretSanta campaign
Wednesday, January 19, 2022
2408 children living in border communities of Armenia received long-awaited Christmas presents thanks to 'Secret Santa' campaign. It is already the fifth year World Vision Armenia has been organising the charity campaign to raise funds for Christmas presents for the most vulnerable children of Armenia.
This year, 1354 individuals և 37 companies participated in the donation campaign. The beneficiaries of the initiative were the children from border communities of Tavush, Gegharkunik, Syunik, and Shirak Marzes.
"Considering the situation after the war, this year we have paid special attention to the border communities, particularly in Syunik, Gegharkunik and Tavush Marzes, where our displaced compatriots from Nagorno Karabakh were also involved in our 'Secret Santa' donation campaign," said Irena Balayan, World Vision Armenia Marketing Coordinator.
According to Balayan, during these five years the campaign has been highly appreciated and trusted by the organisation's business partners․ "Since November, our partner organisations have been calling, asking if we are going to launch 'Secret Santa' campaign this year, expressing a desire to participate in advance. On behalf of our organisation, I would like to thank all the individuals and companies, thanks to whom we had the opportunity to ensure the New Year miracle for our Armenian children",-says Irena Balayan.
Еach donor receives a personal report, if you have not received an email, please contact us at worldvision_armenia@wvi.org․
Thank you once again for making the children's New Year dream come true․ The list of organisations that participated in the campaign is below.
VMwAre / ՎիԷմուեր
Embassy of Lithuania in Armenia / Լիտվայի դեսպանատուն Հայաստանում
Moussaler Printing House / Մուսալեռ տպագրատուն
Mogo / Մոգո
Artlunch / Արտլանչ
Instigate Training Center / Ինսթիգեյթ ուսումնական կենտրոն
Nairi Insurance / Նաիրի Ինշուրանս
Optym Armenia / Օպտիմ Արմենիա
KPMG Armenia / Քեյ-Փի-Էմ-Ջի Արմենիա
Andava Digital Marketing Agency / Անդավա ինտերնետ-մարկետինգային ընկերություն
Holiday Inn / Հոլիդեյ Ինն
Questrade / Քուեսթրեյդ
Beeweb / Բիվեբ
Inecobank / Ինեկոբանկ
Deloitte Armenia / Դելոյթ Արմենիա
TCF Armenia / TCF Արմենիա
Karas - National Food Chain / Կարաս - Ազգային Սննդի Ցանց
STDev / Էս Թի-դեվ
Education Center / Էդուքեյշն Սենթեր
Flux Technologies / Ֆլաքս Թեքնոլոջիս
Helix Consulting / Հելիքս Կոնսալտինգ
Simply Technologies / Սիմփլի Թեքնոլոջիս
Benivo / Բենիվո
X-tech / Իքս-Թեք
Breavis - Բրեվիս
Microm / Միկրոմ
Double Coconut / Դաբլ Քոքոնաթ
Art and Ar / Արտ և Ար
Vineti.am / Վինեթի․ԷյԷմ
Syunik Regional Psychiatric-Neurological Dispensary /Սյունիքի մարզային նյարդահոգեբանական դիսպանսեր