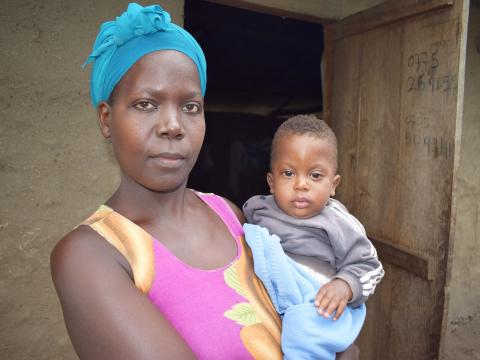 Kasese floods: A familiar heartbreak
Friday, September 25, 2020
Just four months shy of the May floods, Kasese was affected by new flooding which caused landslides and further destroyed the little that was left or being rebuilt.
The floods mainly affected Ibanda/Bugoye and Nyamwamba divisions in which district officials estimate 10,003 people to have been affected; out of which 310 households with 1,590 members have been displaced in Internally Displaced Persons (IDP) camps. The affected families are in urgent need of shelter, Non-Food Items (NFIs), food and water. World Vision, with support from the Directorate-General for European Civil Protection and Humanitarian Aid Operations (ECHO) is supporting the district to deliver food to these families.
Joy Kyobutungi, a victim of the floods narrates her ordeal. Her family had planted some food on a small part of land that was spared by the May floods. "A relative called me at night and told me that floods had come." She recalls, speaking in a weak voice. "We had planted some cassava which was helping us as we stayed in the camp. When I went to see our land the next day, it was all gone."
Like so many families who settled near the banks of River Nyamwamba, Joy and her husband Stephen hoped the fertile soils of Kasese would bring them success. Laying in the shadow of the Mountain Rwenzori, which means Rainmaker, Joy and Stephen found land that would become their home. "We were given a three-acre piece of land by the Government through the Basongora Cooperative," Joy shares.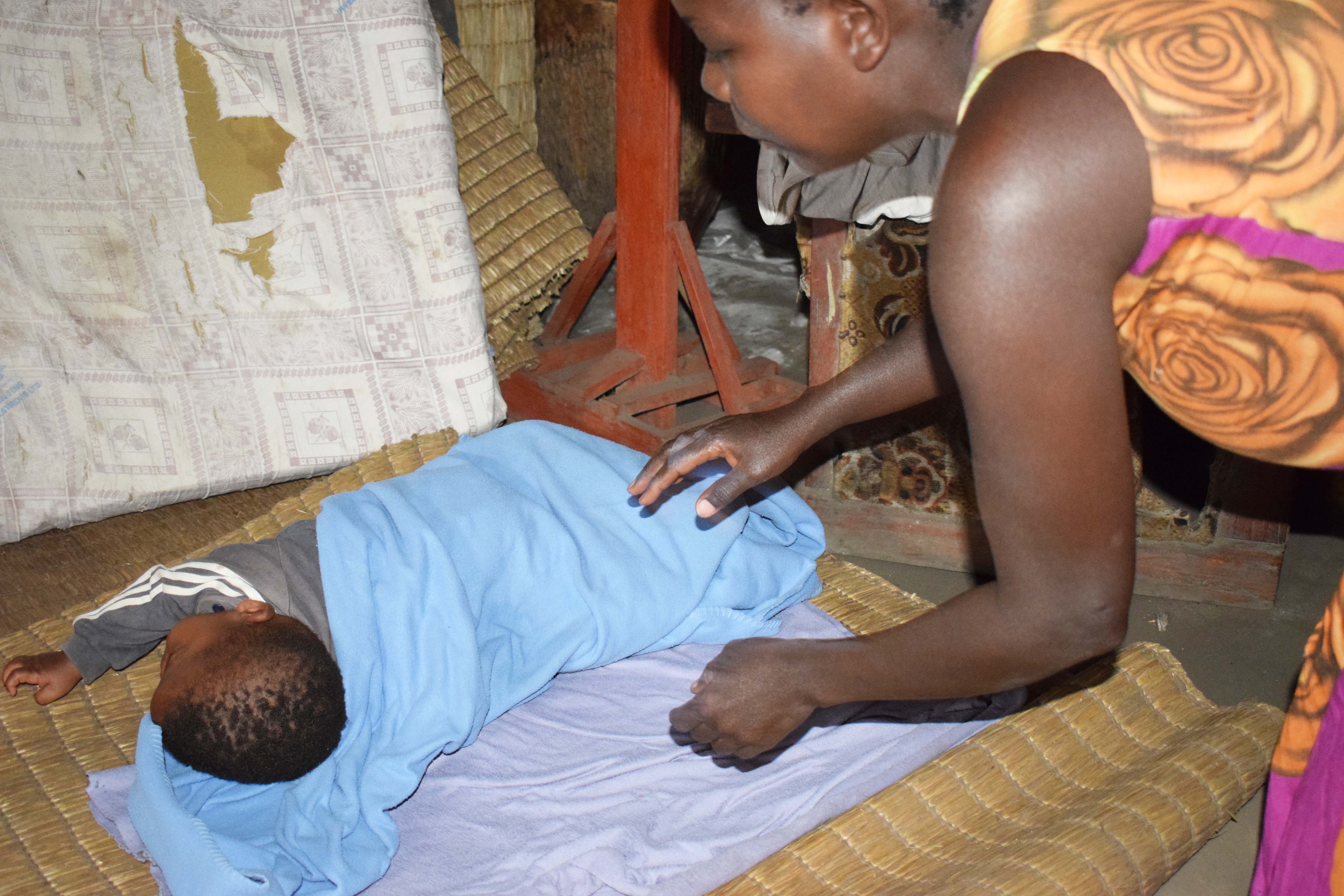 The Heartbreak
Soon, Joy and her family would experience heartbreak that would become too familiar. "We had just planted tomatoes and beans," Joy narrates, "then, one day, floods came and swept them away." This was last year, and although the destruction was bad, the floods spared her home, and so, they stayed.
The family replanted and started thriving. "We planted an acre of matooke (plantain), another tomatoes and beans and the other maize." Joy explains. This plantation was even more essential to our family due to the COVID-19 pandemic. "I am a teacher at a private school and my husband is a farmer. So when we went into lockdown, we were greatly affected. We do not earn anything and we would just get food from the garden," she says as her 6-months-old baby girls' cries cut through.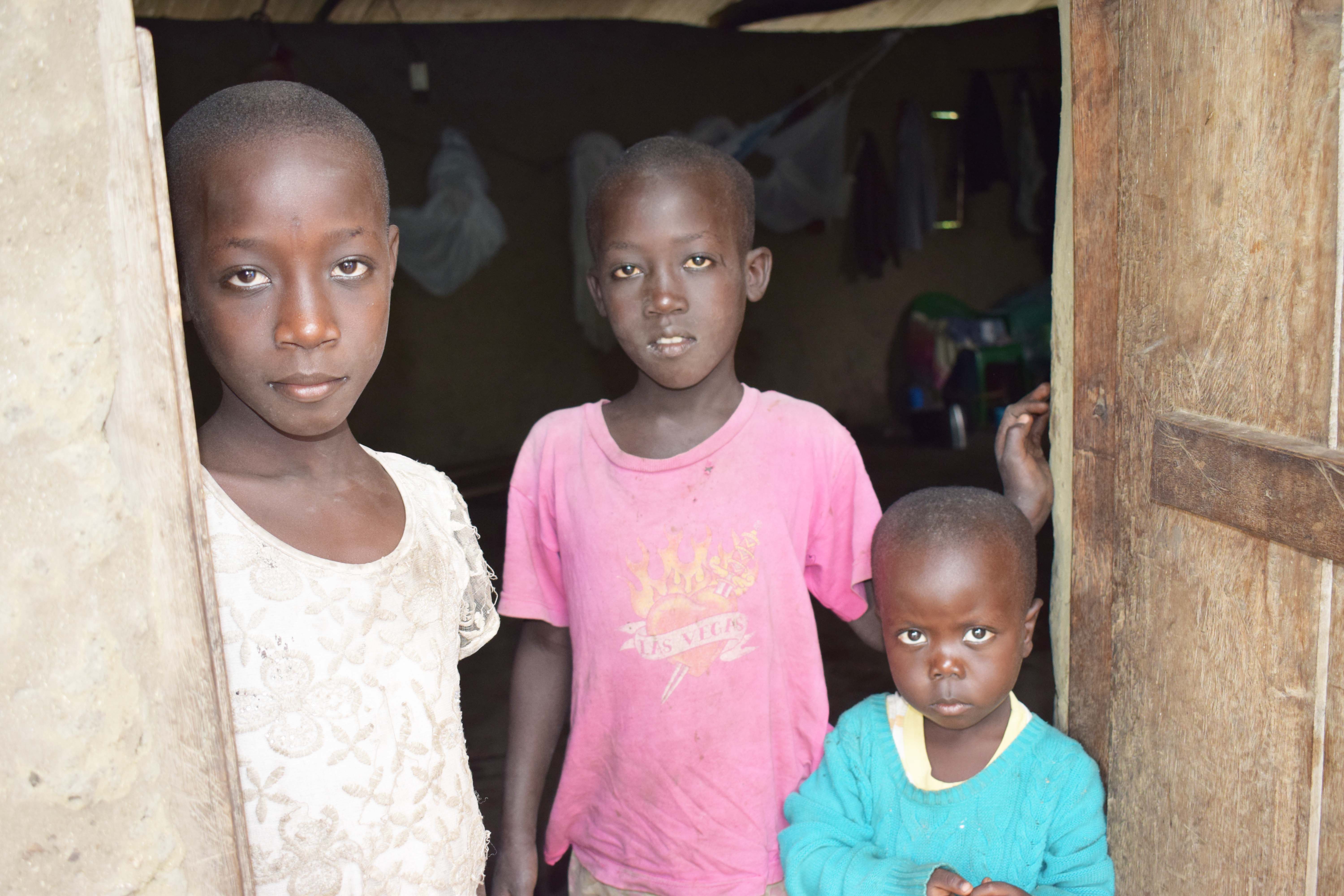 Almost a year after the first floods, another wave came, sweeping away everything Joy and Stephen had worked hard to build. "Someone called us at 3am and told us to hurry out of our home. We ran with our children and left everything," Joy explains. "In the dark, we just ran. I thought I was going to die with my children but God had mercy on us," she continues. This time, the floods did not spare anything. "My house, toilet, kitchen, everything was just swept," she reveals.
The following day, Joy and her family settled at Kanyatete Pentecostal Church. "The water blocked our paths so we had to come here," she says. They found refuge at their church where Joy is a Mothers' Union member. In the small church, Joy and her family found what would be their home. "We stay here with nine other families," she says as she puts her baby to sleep on a sisal mat. "At least I am in my church," she adds, looking for positives.
Living in a camp has been hard on their eight children. "After three days at the camp, the children asked when we are reconstructing our house and how long we were going to spend here," Joy reveals painfully.
ECHO cash assistance
World Vision, with support from ECHO started a four-month multi-sectoral emergency response to support vulnerable flood victims. Joy and her family are among the 1,250 households benefitting from this response. The households are provided 369,900 UGX ($100) in two instalments and supported with financial and gender trainings to ensure the family properly use the assistance.
Joy's family has been able to buy some essentials. "We got 100 Kgs of Maize for eating and planting, rice, soap, sanitary towels for the girls and iron sheets for our next house," Joy explains. The family has also been able to use the money to provide learning materials for their children. "My parents give me money to buy test papers form the newspaper, so I am able to revise and practice," Edrick, one of Joy's children and a primary seven candidate, explains.
The lockdown resulting from COVID-19 and the effects of the floods worried Joy about her children's education. "I am a nursery teacher, so I cannot help the older children study. I was worried about whether they would be able to catch up with their classmates," she explains. With these materials, Edrick feels ready for the final exams. "I am ready to do my Social Studies exam. I am working hard on being ready for the others," he explains. The multi-purpose cash assistance enables families to cater to their needs in a dignified manner and contribute to the local businesses, many of which were also affected by the floods.
A painful but welcome new start
All the hope the family had to return and reclaim some of their old land has gone. "We cannot go back there. It is just getting worse," Joy exclaims. "Before, you would plant and maybe floods would come once so you wouldn't lose everything. Now, every time you plant you lose because the floods come anytime. Whether it is dry or not. When it rains on the mountain, it will flood," she explains.
Joy and Stephen have now decided to find land elsewhere. "Our relatives have loaned us some money. We have bought a quarter-acre piece of land," Joy happily reveals. The family has constructed a new house using the iron sheets that they bought. "We have planted maize and we are planning to make that our new home," Joy adds. 
As Joy and her family look to a new start, they still carry the pain of a future lost on their three-acre farm, and the setback from the familiar heartbreak of the floods.