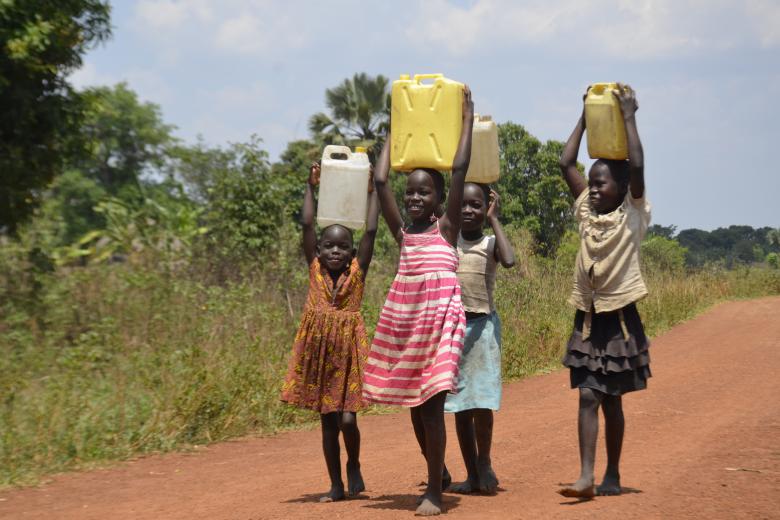 Piped water systems help more people gain access to clean water in Uganda
Wednesday, March 23, 2022
Enthusiasm hits you when you arrive at Nakataka village in Nakasongola district. Residents are all smiles, going about their work with satisfaction—not bewildered to take refuge from the scorching sun. For these folks, life is just good.
Asked what the secret could be, George Sekiwere, water committee chairperson, hastily responds, "We are happy people because World Vision solved our biggest problem. Water is life, and we have a piped water system in our village."
Lying in the cattle corridor, Nakasongola is predominantly dependent on cattle keeping, and a bit of subsistence farming. The way of life for people here has developed to a precise rhythm over the years.
But the climate here is changing. This month means dry riverbeds and loss of livestock. Next month, it can mean heavy rains that destroy topsoil and ruin crops, implying poor or no harvest. Residents here have no choice but to adapt to the harsh climate reality—more intense rainfall yet less overall rain. Droughts, floods, high temperatures and generally unpredictable weather patterns all conspire to complicate life.
George says that this partly explains their gladness for relief or interventions to improve their resilience and secure their livelihoods. "We have always fought to keep our cows alive in a changing climate", he says. "Cattle need a clean and regular water supply, as do the communities that keep them. They also need healthy soils, so their grazing grass grows."
Even the two boreholes constructed in George's village did not serve long. "In this village, we had the first borehole in 2002", says George. "It malfunctioned in 2005. The second developed a fault immediately. It was beyond our capacity to have it fixed."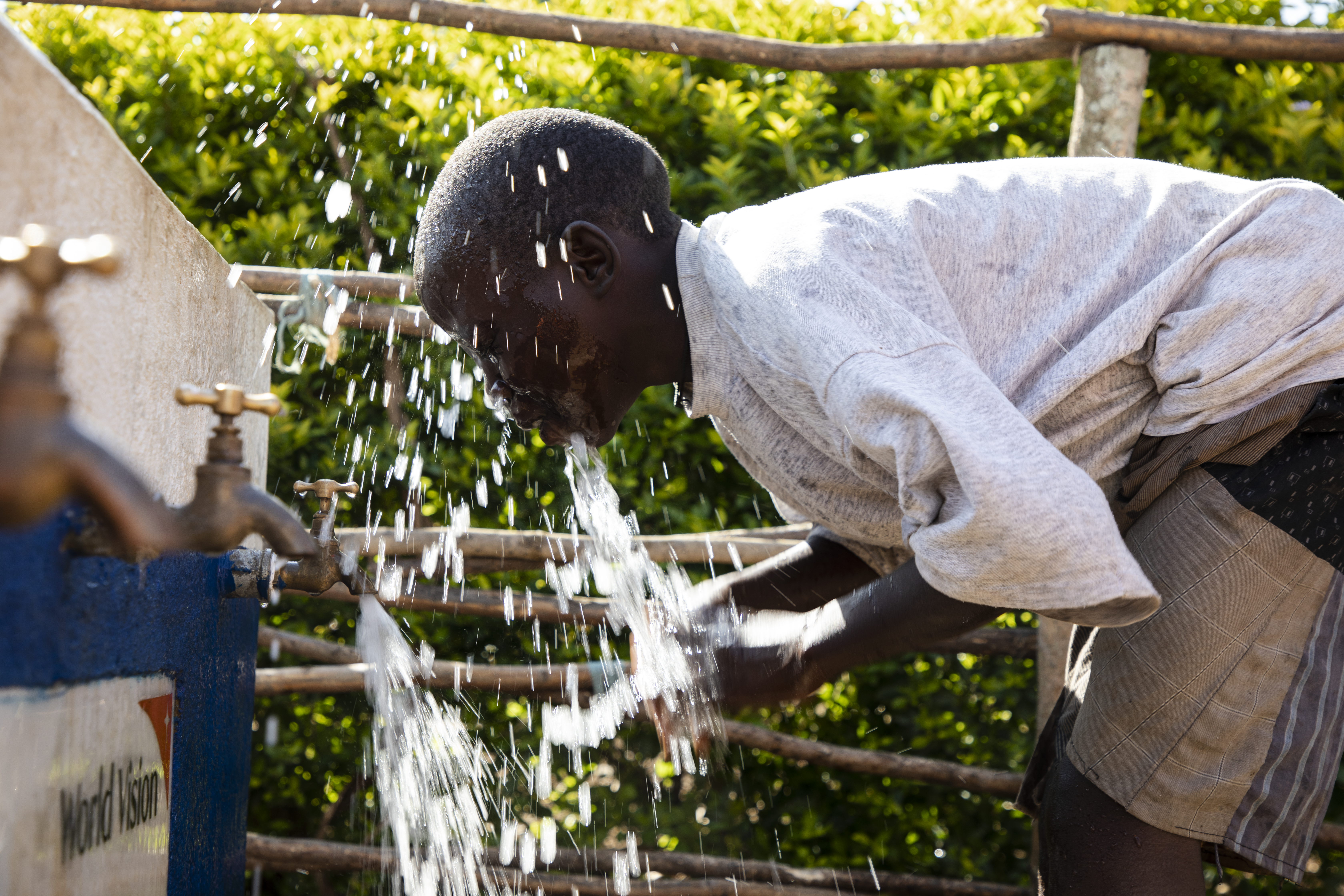 Financially handicapped to carry out repairs on two boreholes, life looked dire, and that is when the community members decided to reach out to World Vision for support. Inspired by its goal of contributing to increased access to clean water, improved sanitation, and adoption of appropriate hygiene behaviour change practices in communities, World Vision responded by turning one of the community's boreholes into a motorised piped water system.
It took World Vision a month to complete the solar-powered piped water system, equipped with a 5,000 cubic litre capacity water tank serving 169 families and their cattle with clean water. "We were gladly shocked by the support and generosity of World Vision. Ours was a simple request for repair, but they had bigger plans—plans not only to make us survive but thrive", George says.
Before World Vision's intervention in this community, women and girls spent four hours daily collecting the precious resource—water. School-going girls were always late or missed school altogether due to long queues and distances.
Mary is a pupil at a local school installed with three public tap stands. She feels elated that she and her friends do not have to trek long distances and spend many hours queuing up to collect water. She says, "To have porridge at school, we had to fetch water. But the borehole was far. Sometimes, we missed classes. Other times, we couldn't concentrate in class because we would get tired. That's no more, thanks to World Vision!"
Francis Oloya is the deputy headteacher at Mary's school. He says access to clean water has significantly improved his school's learning and teaching environment. In a school setting, water is essential. He says that there are many uses, including drinking, cooking, cleaning, and keeping good hygiene, especially for girls and female teachers during menstruation.
Another community member, Thomas, practices farming for a living. Before World Vision came to his community, he would spend valuable time fetching water at the borehole. "Fetching water was a whole day job. I like the tap stands because there is no congestion. Now, I have more time to tend to my garden, a thing that was not possible before", he says.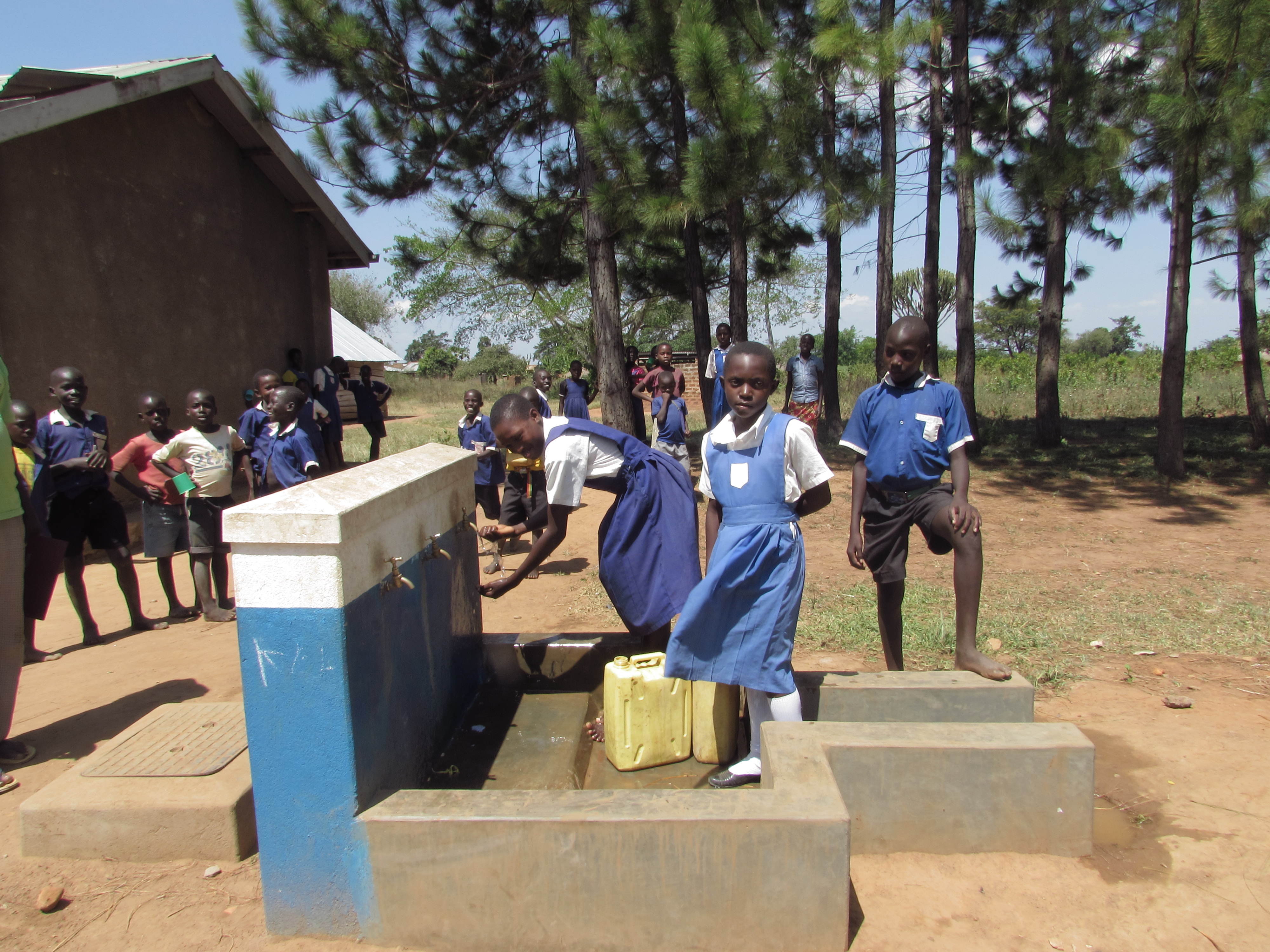 World Vision has helped more than 719,000 people (58% of them children) gain access to clean water across the country. In Nakasongola alone, World Vision has constructed three functional piped systems serving 895 families (5,367 people). Two more water piped water systems will be completed in a few months, bringing the total number to six water systems.
Paul Oyesigye, WASH manager for World Vision in Uganda, says that for sustainability, World Vision is partnering with the National Water and Sewage Company and Water Umbrellas under the Ministry of Water and Environment to undertake operations and maintenance of these systems.
"We're prioritising piped water systems over boreholes because we want to reach as many people as possible in communities, schools and health care facilities. It's much easier to extend a pipe from one point to another than drilling boreholes everywhere," he says.
For George, Thomas, Francis, little Mary, and many others, access to clean water means one thing—getting more done and building towards a future limited only by individual imagination.
—
Story by Mary Atuheire - Donor Liaison Officer. Photos by Emmanuel A. Okello - Communications Officer, and Brian Mungu Jakisa - MEAL Assistant.