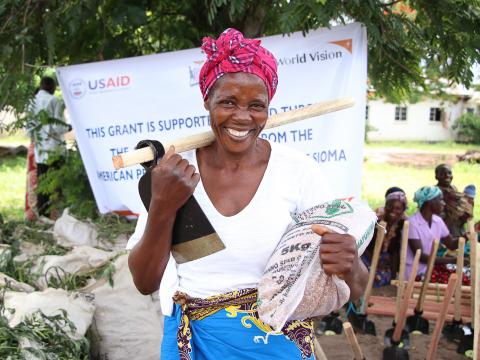 Partnering to help restore lost livelihoods in Zambia's drought-stricken Sioma district
Monday, June 22, 2020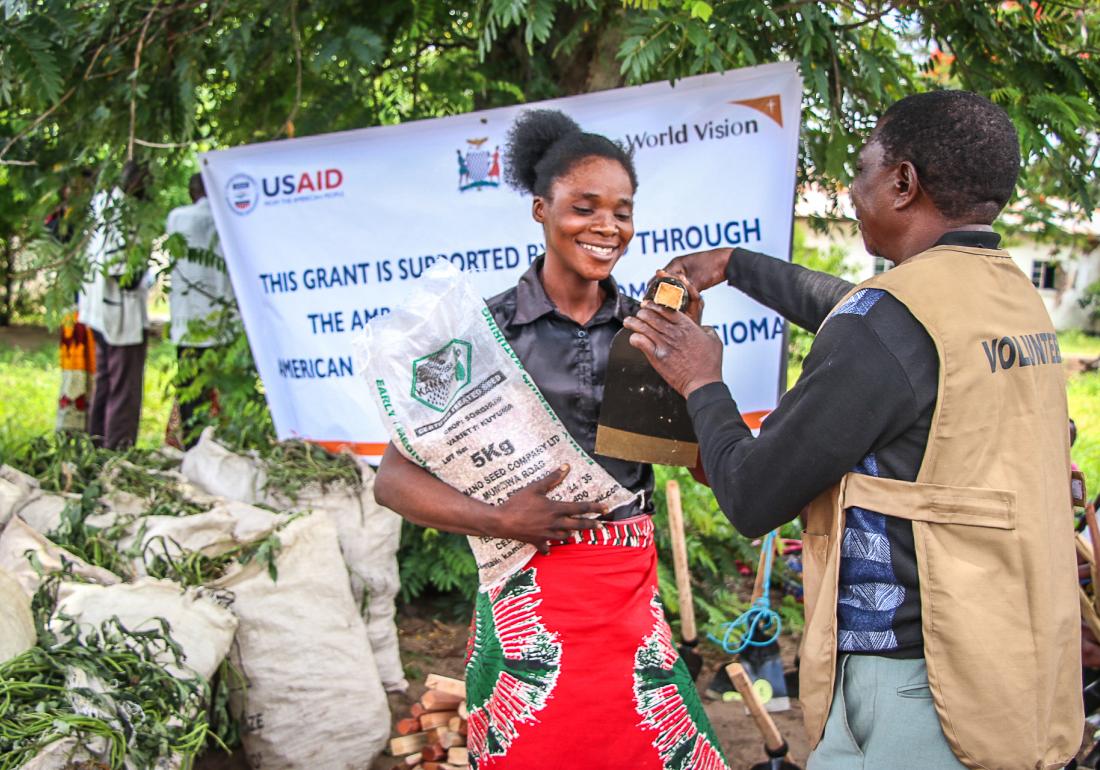 "It never used to be this hot and dry during the past rainy seasons. Previously, it would rain so much that we would pray for it to stop so that we get a chance to go into our fields to plant, but now it's so different". Narrates Kwalombota Imangowa, aged 48 – a lead farmer from Namita village, Kalongola farming block in Sioma district, western province.
Extreme weather patterns caused by climate change have affected livelihoods and are disrupting agriculture production across Zambia and the rest of Southern Africa, resulting in a humanitarian crisis. In the 2018-2019 farming season, Zambia experienced the worst drought in 31 years; leaving farmers like Kwalombota with over 100% crop loss.
"In a good season, I would harvest 150 bags of maize but last year, I did not harvest anything because of prolonged dry spells which led to premature drying of crops" bemoans the father of five children.
The Integrated Food Security Phase Classification (IPC) predicted that an estimated 2.3 million people across Zambia would be likely to experience crisis or worse levels of acute food insecurity by March 2020.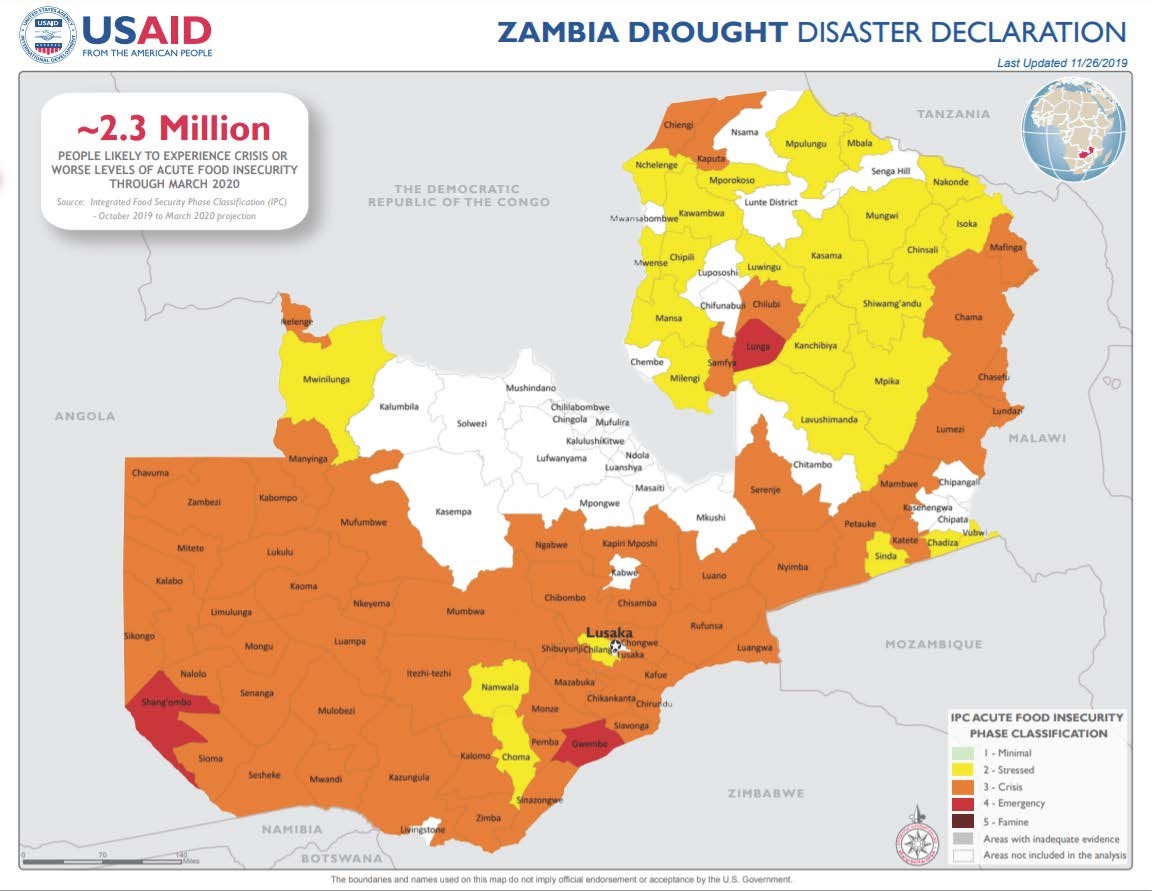 Worsening food insecurity has prompted increased reliance on negative coping strategies in drought-affected areas, indicating the need for urgent assistance to prevent humanitarian conditions in Zambia from deteriorating further.
In response, World Vision's Zambia Office is responding to the humanitarian emergency by responding to immediate humanitarian needs with support from USAID's Office of U.S. Foreign Disaster Assistance (USAID/OFDA), while also promoting interventions to build community resilience to mitigate and respond to future shocks. The drought response is supporting the delivery of agricultural and other livelihoods assistance to drought-affected populations in Western Province's Sioma District.
Over 2,200 farming households are targeted under the $100,000 intervention in Sioma. The humanitarian response is focused on building resilience amid dry conditions. Farmers drawn from four farming camps are receiving training in climate-smart agriculture to help them improve agricultural production in view of extreme weather events caused by climate change.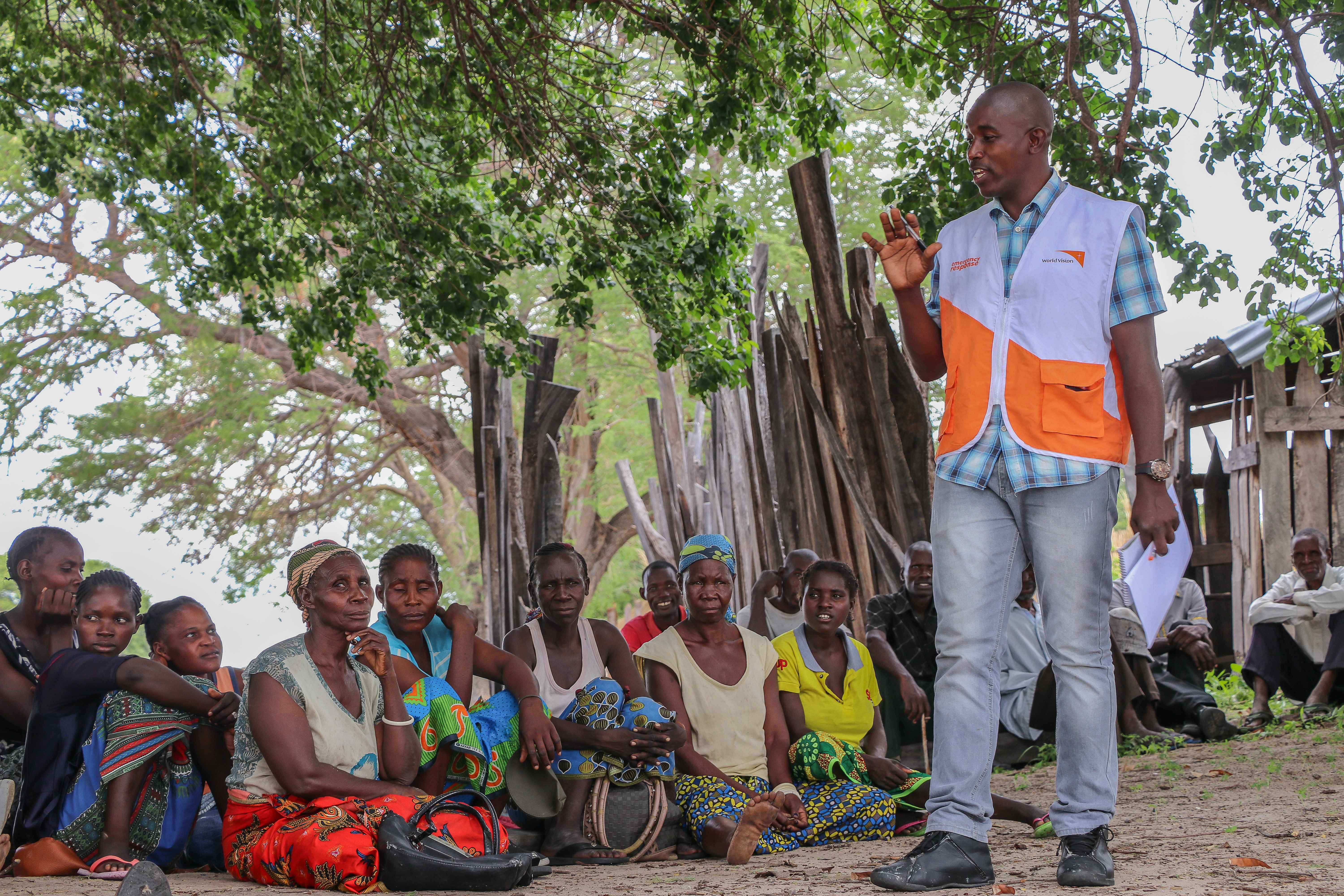 Project participants are also receiving a variety of seeds such as sorghum, sweet potatoes, cowpeas, and various types of vegetable seeds (carrots, pumpkin, Chinese cabbage, okra and impwa seed) to help ensure food security during the 2019-2020 farming season. Farmers are also receiving farming implements such as farming hoes.
"The training is really a blessing. It has helped us as farmers to understand how to respond to changes in climate. Our hunger will be avoided moving forward", says Den Muwela, 45, father of five.
Forty-severn-year-old Regan Saboi Muyedeko from Mashobo village in Sioma says the seeds which farmers are receiving after the training will help, "to rebuild our lives, following the devastating loss from last season."
Sioma District Agriculture Coordinator (DACO), Belvin Mutanga, highlights the reliance of most farmers on seed recycling, and hence the drought experienced in Sioma was a huge blow to them: "The total crop failure caused by the prolonged dry spells brought about extreme hunger and because seed recycling is common here, most farmers were unable to reserve any seeds to plant this season".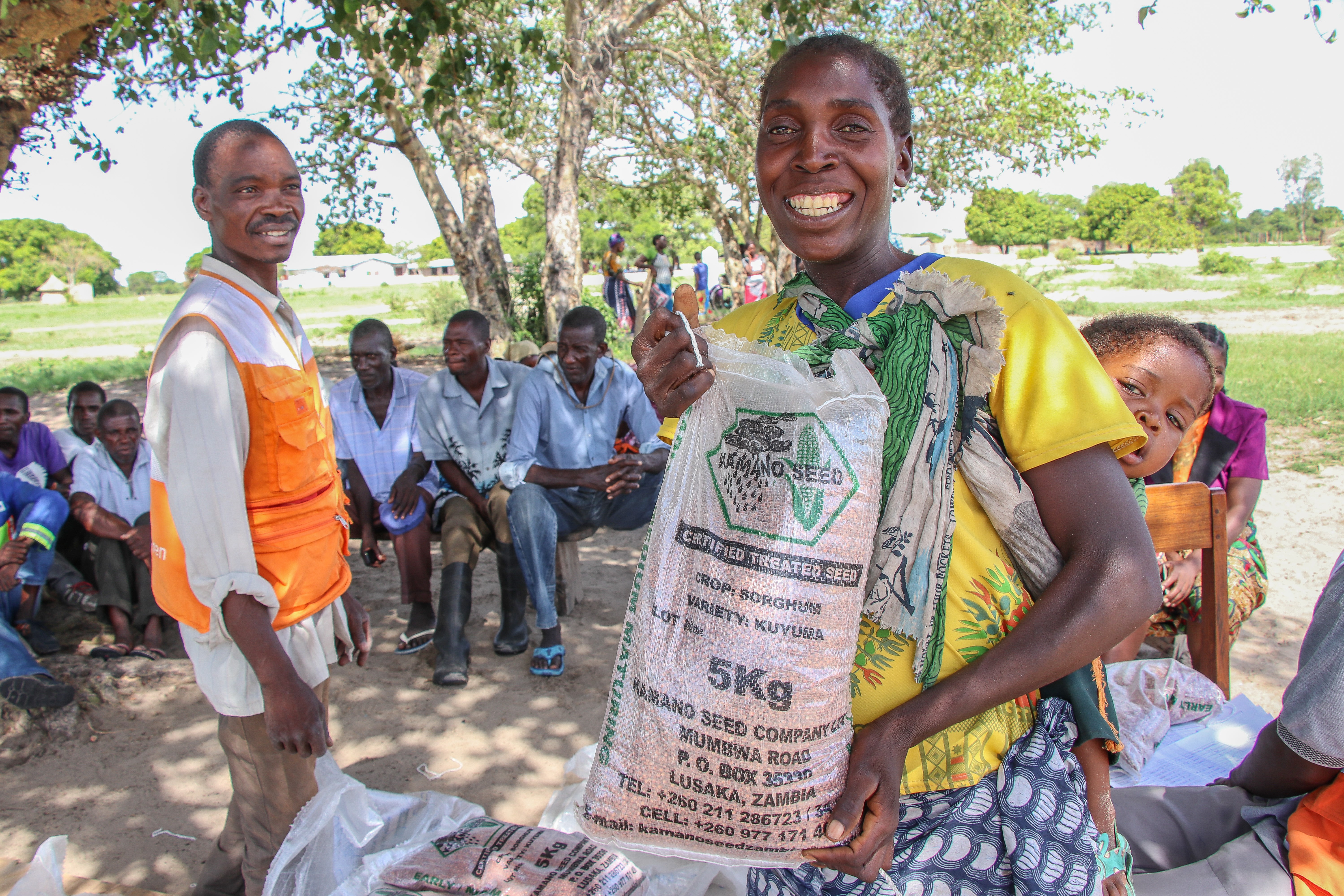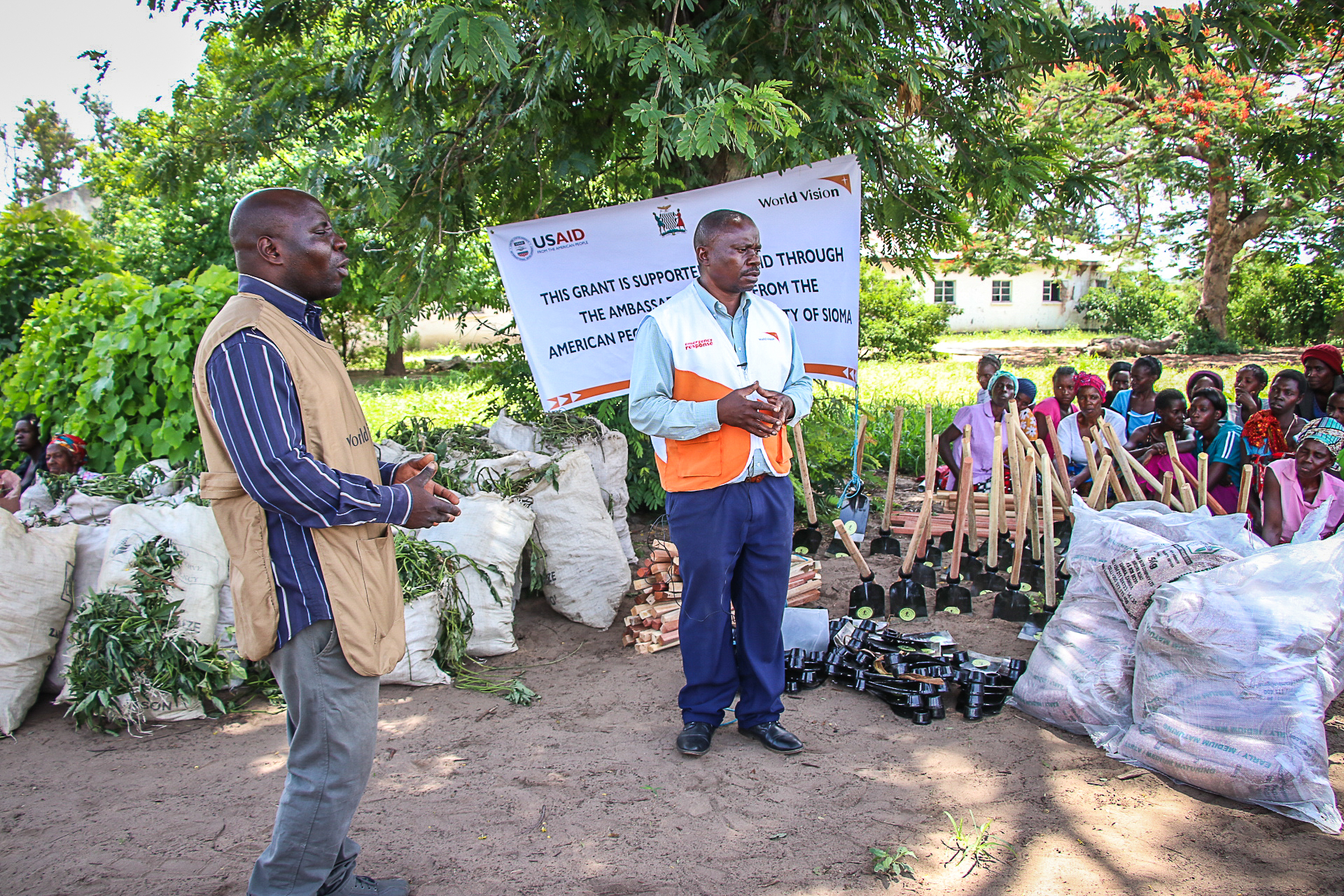 Mr. Mutanga praised USAID for their humanitarian support to the district: "The drought-resistant and early maturing seeds that farmers are receiving through this emergency response are timely and coupled with the training of farmers on climate-resilient agriculture will help communities to recover livelihoods." He adds: "With these drought-tolerant crops that are being distributed to vulnerable households, the district is hopeful that farmers will harvest some crops in the 2019/2020 farming season."