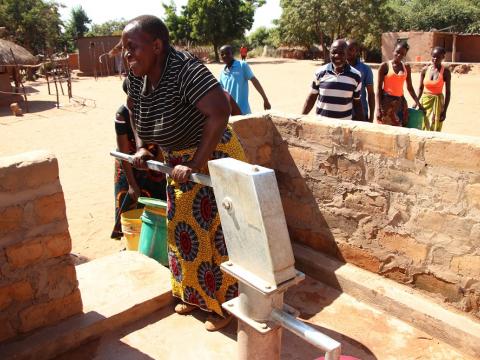 Rehabilitated borehole helps restore peace and livelihoods in Gwembe, Zambia
Tuesday, May 19, 2020
Eight hundred litres of water. That is how much water Ruth, aged 45, uses every day, together with her household of 20 people, which includes seven children and 13 other dependents.
Ruth is a woman with a big heart and sheer dedication. Although she has had a stammer since birth, a moment in her presence tells you that this is a woman determined to tell her story, regardless of what life throws at her.
Located deep in the valleys of Gwembe is a fishing community, close to Lake Kariba, where Ruth came to live in 2006 as a widow. 
For Ruth, water has played a key role in her survival, and she appreciates every single drop of it.
"When I first came to settle in this community with my family, I went to the headman and asked for land to build a small shop at the local market. I quickly built the shop with water drawn from this borehole right here, which was going to be difficult to do without," recalled Ruth.
Ruth was able to use the water from the borehole to mold block and cement. Her shop was completed with ease.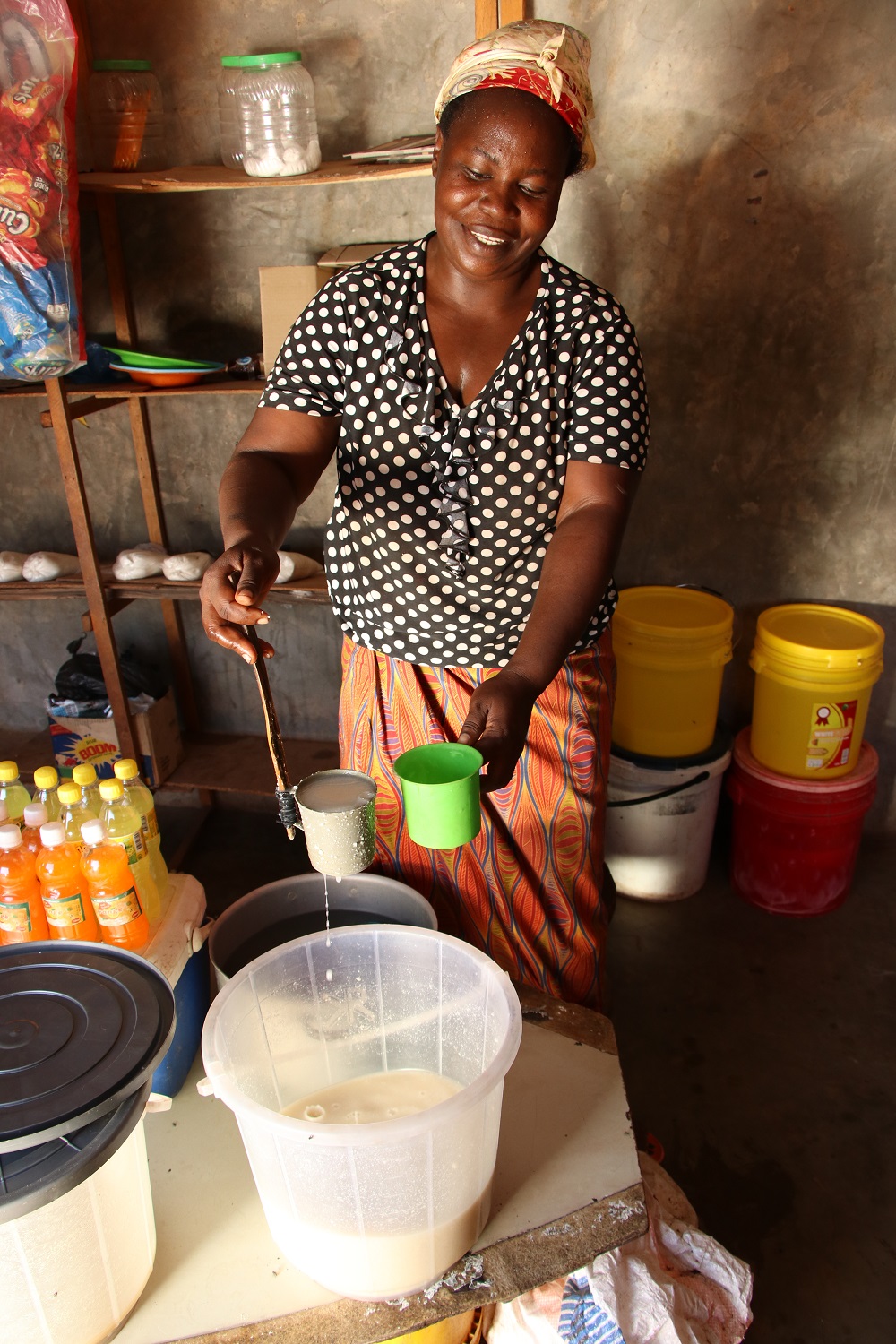 Ruth in her shop pouring a cup of Chibwantu
What does she do with 800 litres of water every day you might ask? The answer lies both in her business and the size of her family.
"Water sustains me, it enables me to send my children to school and look after my extended family. Every day the water I draw is used to make a popular non-alcoholic beverage known as Chibwantu, which I sell here at the market. I also use some of the water to make scones for sale and also for home usage like cooking and washing clothes," explained Ruth.
Drawing this amount of water is no small feat. Ruth admits there have been times when people have exchanged heated words while waiting for their turn to draw water at the borehole.
"Because there are so many people, we are only allowed to draw 100 litres at a time, so one has to come early and be patient, otherwise go home empty handed," she shared.
Ruth outside her shop, whose bricks were made using water from the borehole
Four months ago, the borehole broke down and the market committee, which was established to manage and repair the borehole, did not have enough funds to repair it.
 "We used to wake up around 4 am just to stand in line to try and draw some water, because this is the nearest borehole. However, because it was damaged, very little water would come out," Ruth said.
"Imagine you came at 4 am and left at 3 pm, it was very frustrating. Women would fight over who came first. I remember I had a misunderstanding with another person because of this. So I went to the headman to complain. But, because I stutter, I failed to talk and because I was very emotional, I just burst into tears and cried," Ruth recollected.
Eventually the borehole broke down completley. This was a nightmare for Ruth, markeeters and the many surrounding households.
"I stopped making Chibwantu because there was no nearby clean water source to draw water from. My business and my income went down. It became very hard to look after my family," shared Ruth. "I could not afford to buy enough food for the whole family and pay for school requirements."
Meanwhile, Kelvin Mango, the Mazoma Vice Headman in the area, said during the period the borehole was down, it became difficult to maintain peace in the community.
"I got complaints every day. I saw how my people were suffering and there was nothing I could do about it," he said.
In February 2020, World Vision, with the support of UNICEF, repaired the borehole and replaced all the pipes, as part of the Southern Africa Hunger Emergency Response, which started in December of  2019.
The drought emergency response was launched following severe droughts between 2018 and 2019 in Southern and Western parts of Zambia, which have left an estimated 2.3 million people facing severe acute food insecurity.
According to the Zambia metrological department, large parts of southern and western Zambia received their lowest seasonal rainfall totals since at least 1981, which has left livelihoods that depend on water upended.
"Low water levels in major rivers and groundwater as a result of the prolonged dry spells impacted negatively on people's access to clean drinking water. In some cases, people and animals were using same water sources, which was unsafe as it exposed many to diseases," said Benard Zgambo, World Vision's humanitarian emergency affairs manager in Zambia.
Since the borehole was rehabilitated, there has been an increase in the quality and quantity of water flowing through the pump.
"We do not spend a lot of time pumping water, it comes out with just one pump...  because I spend less time at the borehole I am able to focus on my business," said Ruth.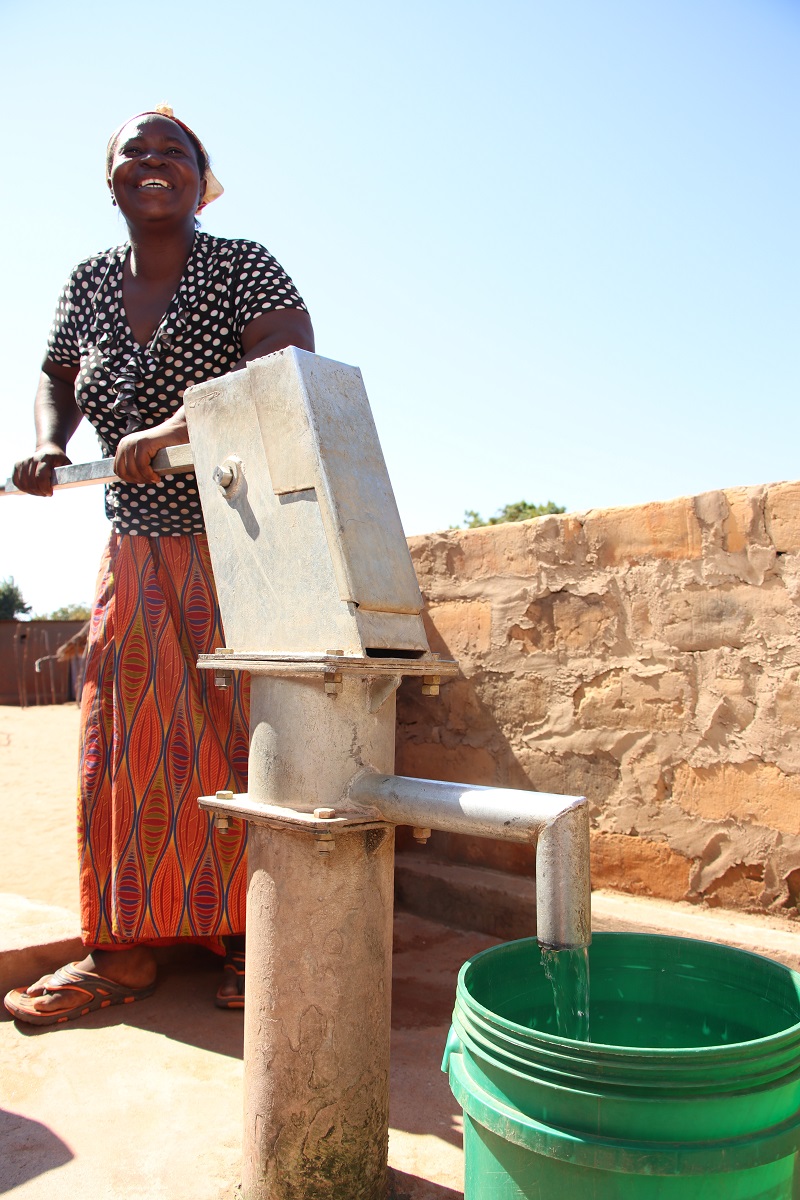 Ruth drawing water from the borehole located less than 50 metres from her shop
Meanwhile, reports of misunderstanding from the water point have also reduced. "The fights and quarrels that used to take place when people were trying to draw water have also reduced," said Kelvin Mwango the vice headman.
The water from the borehole is also playing a key role in the prevention of COVID-19 in the community and marketplace.
With the onset of the coronavirus, the markeeters placed a large handwashing basin with soap in the centre of the market for markeeters and customers to wash their hands when they arrive to trade.
 "We have made a rule that the handwashing basin should be filled with water first every morning, before anyone can draw water from the borehole, so that people can use it to wash their hands," said borehole committee chairperson, Mwansa Kalamba.
The community understands the gravity of the disease as seen on the news.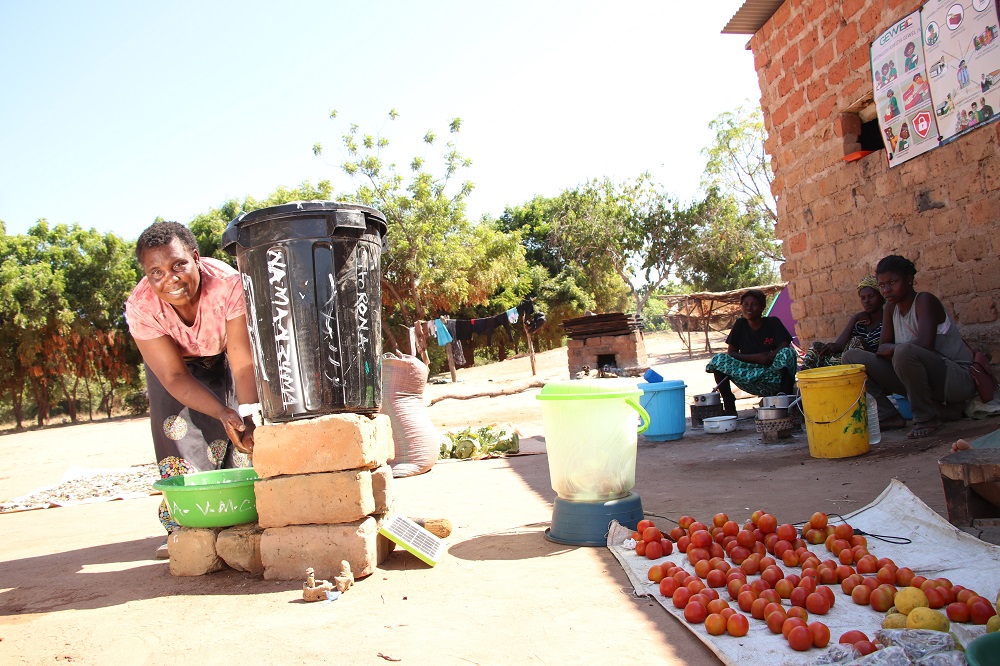 Mwansa washing her hands at basin stationed at the centre of the market.
Vice Headman Kelvin Mango, who also oversees Namanga Market Affairs said, "We have seen what is happening in other places because of the coronavirus. We do not want that here. So, we are happy we have a functioning borehole to draw water from to maintain hygiene."                                           
Learn more about and/or support World Vision's global work to limit the spread of COVID-19 and support the children impacted by it on our COVID-19 Emergency Response Page.