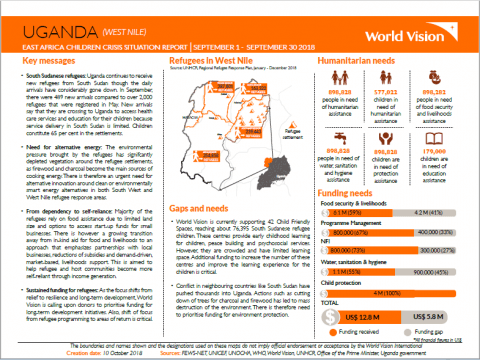 Uganda - September 2018 Situation Report
Monday, October 22, 2018
South Sudanese refugees: Uganda continues to receive new refugees from South Sudan though the daily arrivals have considerably gone down. In September, there were 489 new arrivals compared to over 2,000 refugees that were registered in May. New arrivals say that they are crossing to Uganda to access health care services and education for their children because service delivery in South Sudan is limited. Children constitute 65 per cent in the settlements.
Need for alternative energy: The environmental pressure brought by the refugees has signifcantly depleted vegetation around the refugee settlements, as firewood and charcoal become the main sources of cooking energy. There is therefore an urgent need for alternative innovation around clean or environmentally smart energy alternatives in both South West and West Nile refugee response areas.
From dependency to self-reliance: Majority of the refugees rely on food assistance due to limited land size and options to access start-up funds for small businesses. There is however a growing transition away from in-kind aid for food and livelihoods to an approach that emphasizes partnerships with local businesses, reductions of subsidies and demand-driven, market-based, livelihoods support. This is aimed to help refugee and host communities become more self-reliant through income generation.
Sustained funding for refugees: As the focus shifts from relief to resilience and long-term development, World Vision is calling upon donors to prioritise funding for long-term development initiatives. Also, shift of focus from refugee programming to areas of return is critical.
For more information, read or download our September 208 situation report.