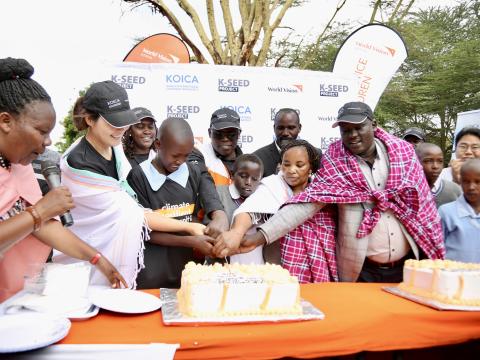 World Vision and KOICA partner to tackle climate change induced droughts in Narok County with KSh 177 million investment
Tuesday, May 16, 2023
Narok County,  May 2023 - Families and communities in Narok County are set to benefit from transformative climate change adaptation and mitigation initiatives, aimed at building their reliance to the adverse effects of global warming, including drought.
This follows the launch of a KSh.177 million project that will be implemented by World Vision in partnership with the Narok County Government, through funds from the Korea International Cooperation Agency (KOICA).
The project, known as Sustainable Environment and Economy against Drought and Degradation in the Tsavo Ecosystem and Dispersal Area (K-SEED), seeks to enhance the resilience of communities to the adverse effects of climate change, mainly prolonged droughts that have perennially affected families in Narok County.
This will be done through afforestation and reforestation initiatives aimed at increasing tree cover in the area so as to restore degraded land and safeguard water catchment areas. These activities will lead to improved soil fertility, as well as increased pasture and grazing land.
In addition, the project aims at empowering communities on climate-smart agricultural techniques that seek to increase household income and food security without destroying the environment.
It will also support communities to expand their knowledge of value chains and market demands for specific products, as well as to build a sustainable business model that will increase their income and strengthen their livelihoods.
Patrick Ole Ntutu, the Narok County Governor notes that the new initiative highlights the power of collaboration in transforming communities in the region.
"Narok has been experiencing the adverse effects of climate change such as prolonged droughts which affect the livelihoods of many people. Through this collaboration, we anticipate a remarkable improvement in the protection of catchment areas through installation of water resource facilities as well as the enrichment of climate change response policies and initiatives that will enable our people to proactively adopt climate-smart agriculture. My government is committed to provide the technical support as well as the leadership required for the successful implementation of this project," he said.
According to Fredrick Kasiku, the Programme Effectiveness and Impact Director for World Vision Kenya, there is need to enhance response to the adverse impacts of climate change among affected communities.
"We are excited to partner with KOICA and the County Government to improve ecosystem restoration and management in Narok. This aligns with our environmental conservation efforts that also help to boost the economic status of communities," said Kasiku.
He added that community involvement is important for the success of the project, which advocates for the adoption and implementation of regreening approaches like the Farmer Managed Natural Regeneration (FMNR) technique that encourages the regrowth of indigenous trees through effective pruning and management of trees.
On her part, KOICA Kenya Office Vice Representative Park Mi appreciated the community and local partners for their commitment to the new project.
 "We have seen the commitment of the community and local leaders to take part in this initiative, which will establish climate resilient livelihoods, as well as promote locally led restoration initiatives. We look forward to collaborating with our partners to achieve success in this project." she said.
The K-SEED project will contribute to approximately 0.3 percent of Kenya's commitment to restoring 5.1 million hectares of land by 2030 as per the African Forest Landscape Restoration Initiative (AFR100) and Bonn Challenge Initiative.
It will also boost the country's efforts aimed at reducing about 30% of its projected Green House Gas emissions by 2030.
EDITOR'S NOTE:
About KOICA: The Korea International Cooperation Agency (KOICA) was established as a governmental agency dedicated to providing grant aid programs of the Korean government in April 1991. The organisation endeavours to combat poverty and support the sustainable socio-economic development of many developing countries.
About World Vision Kenya: World Vision is a child - focused Christian, humanitarian, advocacy and development organisation dedicated to improving the well-being of children, families and communities in Kenya. The organisation implements sustainable development projects in child protection, education, health, food security, economic empowerment, as well as Water, Sanitation and Hygiene (WASH), while also providing emergency relief to people affected by natural or human created disaster. World Vision has a vast reach in Kenya. Its transformative development initiatives are spread across 37 counties nationwide. The organisation serves all people regardless of their religion, race, ethnicity or gender.
For more information, please contact:
Sarah Ooko
Ag. Communications & Marketing Manager
World Vision Kenya
Email: sarah_ooko@wvi.org
Mobile: 0720 89632