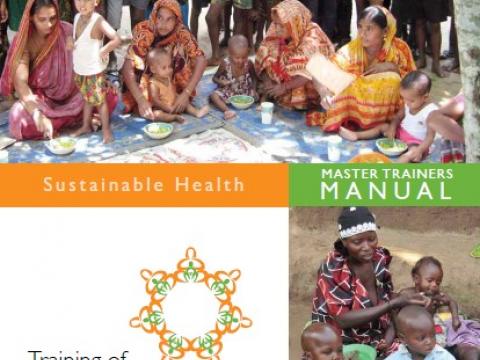 PD/Hearth Training of Master Trainers Manual
Wednesday, March 16, 2016
Training of Master Trainers for Positive Deviance/Hearth
So, you need trainers for Positive Deviance Hearth (PD/H), and you need them to have good facilitation skills? This PD/Hearth Curriculum complements the CORE PD/Hearth resource materials by helping you to train trainers. This curriculum ensures that each participant has practical sessions on facilitation, including peer review for facilitation skills, and has practical, in-the-field exercises to ensure that graduates from this program are well qualified to train the essential elements of PD/Hearth. This curriculum is not designed for beginners in PD/Hearth, but to build facilitation and training skills for those who already have exposure to PD/Hearth basics. This tool also contains a helpful volunteer manual for the graduates of this program to use when they are training volunteers.
What's included?*
Training of Master Trainers Manual (download through link above)
Handouts to accompany Master Trainers Manual
Handouts to accompany the Volunteer Training
Job Aids to accompany the Volunteer Training
Food Composition Table Calculator Tool: 

World Vision's Positive Deviance Hearth Database: 
We have also developed curricula for Training PD Hearth Facilitators. 
*Please note that these files are web-ready. Please contact us at nutrition@wvi.org for print-ready files.
What'll it take?
Six days of face-to-face time with no more than 20 participants.
What skills will participants walk away with?
Good facilitation skills.
Experience in essential community work components. 
Skills in teaching essential elements of PD/Hearth.
Ideas on how best to create an environment for adult learning.
Ideas on keeping sessions interesting and active.
Why this tool?
Training in PD/Hearth goes beyond just teaching the methodology. This training works to build good facilitations skills and helps to improve quality control in PD/Hearth training, and in PD/Hearth programming.
Source/Quick Link
Nutrition Working Group, Child Survival Collaborations and Resources Group (CORE). Positive Deviance/Hearth: A Resource Guide for Sustainably Rehabilitating Malnourished Children. Washington, D.C., 2002. http://www.coregroup.org/.../Hearth_Book.pdf

PD/Hearth Essential Elements: http://www.positivedeviance.org/...addendum.pdf