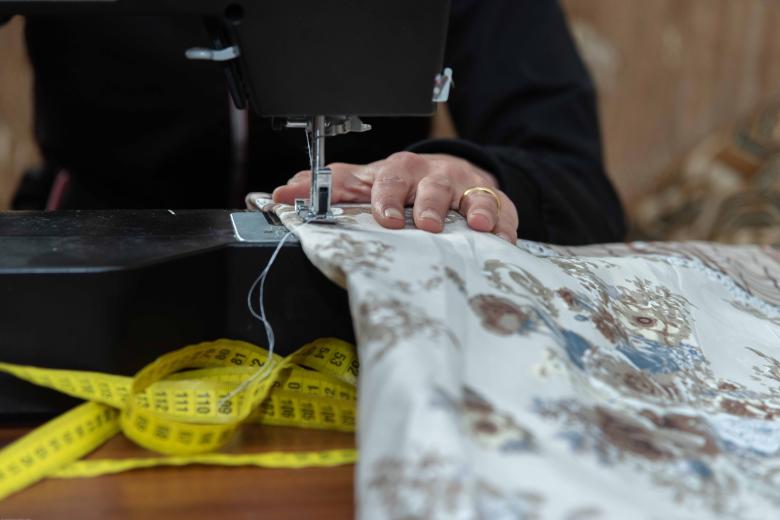 Gayane – young, enthusiastic and active mother now dreams big for her three children
Thursday, July 15, 2021
Many people in the village know Gayane as a tailor. This young mother of three children has loved knitting since childhood. She is specialised in the clothing design. She sews clothes for many people, corrects clothing flaws, likes decorative needlework and embroidery, and often makes surprises for her friends. Even after getting married, she did not give up her favourite job, and has always dreamed of her own business and a sewing machine.
Gayane's family lives in a rather old house; they have a plot of land in the yard, which they cultivate and are happy with the quantity of their harvest.
"I have graduated from the Faculty of Art Clothing Design. I like handicrafts. For six years now, I have been taking online orders of embroidery but I dreamed of expanding my activities, dreamed of a new sewing machine. My husband used to work in the Russian Federation, but he got an injury and is unable work now. We used to live on our modest means, daily wages or farming," remembers Gayane.
"One day in 2018, representatives of World Vision visited us. My daughter Knarik was just born that time, they saw our conditions and registered my child in their programme. They saw my works - dresses, T-shirts and decided to give me a sewing machine," says Gayane.
World Vision supported her attendance to professional training, and today she makes quality T-shirts and dresses. The orders have become more diverse, from casual to evening dresses.
"With my income I buy fancy laces, threads and tissues. Though these items are expensive, I take at least a small amount of these accessories to make high quality orders. I also sew bedding accessories. People like my work, my customers help me improve the quality," she says honestly.
Gayane's child, two years old Knarik, cannot, of course, help her mother, but she is her source of inspiration. "I also sew for my daughter, but there is not much time left for my child, I try to earn money," Gayane confesses.
"When we saw how skilful and diligent Gayane is, we decided to involve her in World Vision's 'Poverty Reduction Programme'. Within these programme World Vision can ensure that tools and knowledge can help Gayane's family significantly improve their living conditions," says Mikayel Tutoyan, Amasia Area Programme Coordinator.
World Vision's 'Poverty Reduction Programme' is a series of multi-sectoral interventions that helps extremely poor families to combat poverty. The support includes social work with families, financial assistance to meet the most urgent needs, vocational training for family members, and training in the field of parenting skills, provision of knowledge on healthy nutrition and hygiene of children, assistance in the solution of the employment issues.
Despite the lack of time, Gayane has attended the courses organised by the World Vision with great enthusiasm, which have helped her in many ways.
"The courses on financial literacy were very useful. I never thought that saving money could be that easy. I used to think that it's impossible, especially when there is little income, but now we try to manage our expenses, and it is getting easy little by little. I have a big dream to renovate our house so that it is not wet and has a safe roof. Dreams come true if you wish so. I work hard, and I think everything will be ok soon," says Gayane.
The effectiveness of the program is stable. 48% of the participating families have overcome extreme poverty, 90% have increased their annual income, 77% of their children have improved their health and 82% of the families have had a significant change in their quality of life.