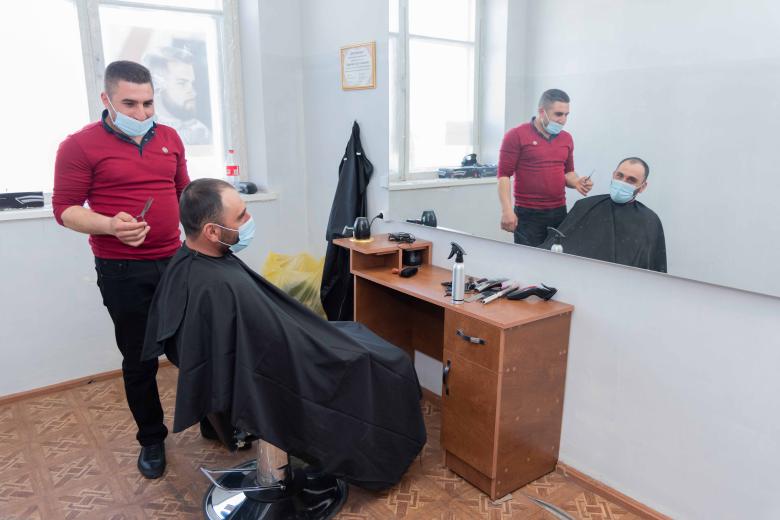 World Vision Armenia helps Sasun find his dream job
Friday, September 24, 2021
This story is about a big 13-member Armenian family living in peace and solidarity. 32-year-old Sasun is the only person who used to carry his family's burden on his shoulders;, his sister's family is also under his care. He is not attracted to work abroad, he loves his father's house, native land and water.
"I studied hairdressing and wanted to be useful to the people of our village, but I had no place to work and I did not have money to rent an area for salon. I heard about World Vision Armenia and applied. I knew they had programmes that support both with knowledge and necessary devices. My application was accepted. There was a building in the village; they supported me to rent a room on the first floor of the building and open a hairdressing salon there. I was very happy, I told my family members about it, and they were all very happy," Sasun recalls.
World Vision Armenia provided Sasun with hairdressing accessories, a professional chair and different devices…
The social worker Svetlana Harutyunyan says, "When Sasun first started the salon, there were very few customers. It took some time for community people to learn there is a hairdresser in their village, because they used to reach Sevan town or other nearby locations for this service."
They also received a solar water heater as part of World Vision Armenia's 'Poverty Reduction Program' which significantly supported their family in terms of making savings and provided them with permanent hot water.
"It was a pleasure for my wife to participate in special child care courses, as this was an opportunity to learn so many new things. She used to repeat there were so many nuances that we did not know before," says Sasun.
During the implementation of its programmes, World Vision Armenia undertakes an individual approach to each family, taking into consideration the family's specific needs and advantages, strengths and weaknesses.
"My wife is a specialist in a foreign language, she was selected as leader of an after-school extension group, now she has a job. World Vision treats our family very carefully, as if we were relatives," says Sasun.
The program is a series of multi-sectoral interventions to help extremely poor families to combat poverty. The support includes social work with families, financial assistance to meet the most urgent needs, vocational training for family members, training in the field of parenting skills, provision of knowledge on healthy nutrition and hygiene of children, assistance in the solution of the employment issues.
"We have many dreams. I want stability in my country, the number of my customers will increase, and everything will be fine," says Sasun.
The effectiveness of the programme is sustainable; 48% of the participating families have overcome extreme poverty, 90% have increased their annual income, 77% of their children have improved their health and 82% of the families have had a significant change in their quality of life.