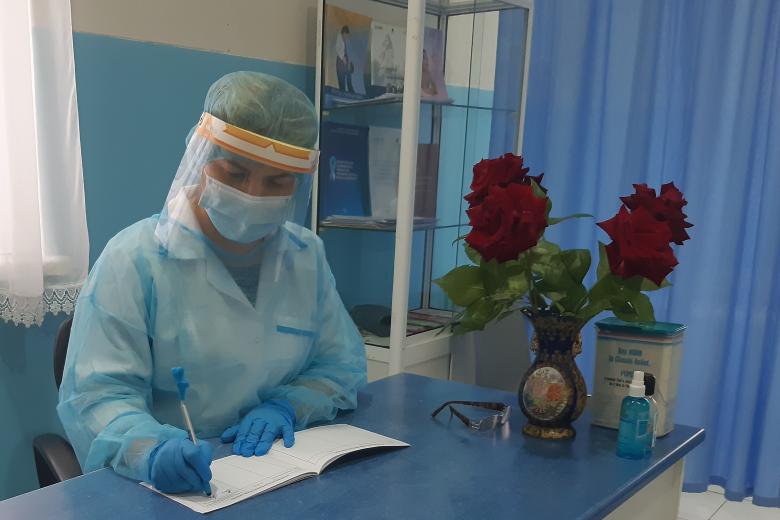 World Vision supports the improvement of COVID-19 patients' treatment in the regional healthcare units of Armenia
Thursday, June 18, 2020
World Vision Armenia convenes an online meeting with country's healthcare authorities and regional healthcare providers in response to their needs to receive first-hand instructions and guidance on COVID-19 prevention, testing and patients' treatment.
"Our discussions with local healthcare providers revealed that though the state authorities did provide official instructions on COVID-19 prevention, testing and patients' treatment, there are a number of urgent questions and unclearness over the processes and systems for the healthcare workforce in the regions of Armenia. These online meetings aim to help both sides to have a clear understanding of processes at one hand and better idea about the situation in the regions at the other" – says Karine Abelyan, World Vision Armenia's Healthcare Expert.
200 healthcare workers, including heads of medical facilities, family doctors and nurses of community ambulatories and hospitals in six marzes (regions) of Armenia have participated to the online discussions, raising a number of concerns related to the testing and treatment of COVID-19 patients in the regional healthcare facilities. Thanks to the initiative, they had the opportunity to address their questions and concerns to the officials of the Ministry of Healthcare of Armenia, the Health Inspectorate and the State Health Agency.
"This was a very helpful discussion, because we had a chance to openly raise our concerns, and I am hopeful that these concerns will be addressed as respective officials were present during the discussion," says Shushan Tevanyan, head of Primary Healthcare Unit in Shinuhayr Community, Syuniq Region, South of Armenia.
"This was a very productive and helpful meeting. We would also like to have regular discussions with the healthcare officials, as well as colleagues from other regions of the country to share best practices and lessons learnt", says Anush Nersesyan from Healthcare Center in Darbas Community in Syuniq Region.
During the meetings regional healthcare providers raised a number of questions, related to the testing, transportation, the need of protective equipment, lack of oxygen supplies, patients registration issues etc.
"I am happy this wasn't another lecture rather a live and practical discussion. In our area we have a COVID-19 patient, and I was happy I could discuss the scheme of the treatment, organizational issues, and have my questions answered by the officials", says Anahit Nalbandyan, Head of Ambulatory in Odzun Communtiy, Lori Region, North of Armenia.
"World Vision Armenia prioritizes that the voice of the community representatives is raised and heard. We will continue working both with the healthcare officials and local healthcare providers to initiative targeted response actions that will result in the improved quality of COVID-19 patients treatment in the regions of Armenia," says Karine Abelyan. 
As part of its COVID-19 response, World Vision also plans to provide regional healthcare units with necessary equipment and tools to prevent the spread of the virus and improve the quality of treatment of the patients.