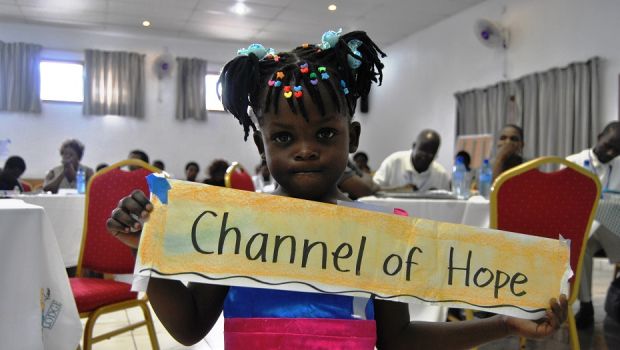 Channels of Hope is an interactive, facilitated process to create a safe space for faith leaders and faith communities to learn, share and debate.It reaches to the root causes and deepest convictions that impact attitudes, norms, values and practices toward the most vulnerable. The process is grounded in guiding principles from participants' holy scriptures. Channels of Hope is designed to move the heart, inform the mind and motivate a sustained and effective response to significant issues. Channels of Hope does not proselytise or change people's doctrine, but equips faith leaders to apply their sacred texts to key social issues and encourage other faith leaders and faith communities to do the same.
Channels of Hope mobilises and builds on the existing competencies of community leaders, especially faith leaders and their congregations, to respond to some of the most difficult issues affecting their communities. Through this process, they are exposed to additional capacity-building efforts that may strengthen their own faith community responses.
Channels of Hope curricula
There are Channels of Hope curricula in the five following areas:
For each area, Channels of Hope starts with a series of training and workshops for faith leaders and faith community members. Participants are equipped with factual information, scriptural reflection and an understanding of the community impact and opportunities to engage which lead to new attitudes and actions that contribute to child well-being. Sustained dialogue and relationships across and between faith communities and other community actors lead to stronger child well-being outcomes. Faith communities and partners work together for social change in prevention, advocacy and care.
Channels of Hope process

Channels of Hope is both a methodology and a process. The Channels of Hope process is focused on partnering with local faith leaders, their congregations and communities for sustainable solutions to community needs. The Channels of Hope process is structured into four phases of activity:
Prepare: Design the project, including mapping potential stakeholders, building capacity to lead the programme, training facilitators who will lead local level workshops, etc.
Catalyse: Faith leaders' catalysing workshops are the key mechanism for engagement and influence with local faith leaders and their spouses. These workshops use a behaviour change methodology designed to address the heart (beliefs), head (knowledge), and hand (planning and behaviour change). The workshops are a safe space for faith leaders and faith communities from various denominations or religions to learn, share and debate challenging issues. Participants consider how their faith and sacred scriptures view various child well-being issues. The methodology is grounded in guiding principles from the participants' faith tradition(s) and sacred scriptures. These principles address harmful attitudes and motivate and equip participants to respond in effective ways to issues affecting the well-being of the most vulnerable children and families in their communities.
Strategise: The Community Hope Action Teams (CHATs) strategising workshops follow. CHATs use a similar workshop methodology as the Faith Leaders catalysing workshops with more time focused on planning. By the end of these strategising workshops, each individual CHAT has a plan to address the child well-being related topic of the workshop in collaboration with the wider community. These plans should address the wider community's harmful attitudes, beliefs and practices while meaningfully connecting to the existing and ongoing work of the formal and informal community systems (e.g., child protection system, health system, etc.). The CHATs then implement their action plans and influence and mobilise the local faith community and beyond.
Empower: Finally, as faith communities implement their action plans, opportunities to strengthen their capacity and engagement continue. The faith communities support and complement wider community initiatives strengthening the enabling child well-being environment through a programme of biannual follow-up and continued capacity building based on the faith groups (CHATs) specific requests.
Impact in faith communities
All Channels of Hope curricula work to mobilise faith leaders and their congregations as advocates on the most pressing issues raised within Channels of Hope workshops. Based on personal transformation and knowledge gained from Channels of Hope workshops, faith leaders and their congregations engage in advocacy within their communities to address systems, structures and processes that are not working for children. World Vision also provides advocacy training to those who demonstrate the passion to be a voice for those affected by key issues in their communities.
Faith engagement in ending violence against children
World Vision's campaign, It takes a world to end violence against children, is igniting movements of people committed to keeping children safe from harm. Its name reflects the fact no one person, group or organisation can solve this problem alone and faith actors are essential in this movement. Check out faith-inspired organisations who are apart of a growing movement of people speaking out to end violence against children.
Interested in learning more?
Learn more about Channels of Hope by checking out the Channels of Hope project model and the individual curricula areas (HIV and AIDS, Gender, Maternal Newborn Child Health, Child Protection and Ebola). If you'd like to learn more about Channels of Hope or to check out the Facilitation Manual, please reach out to channels_of_hope@wvi.org.