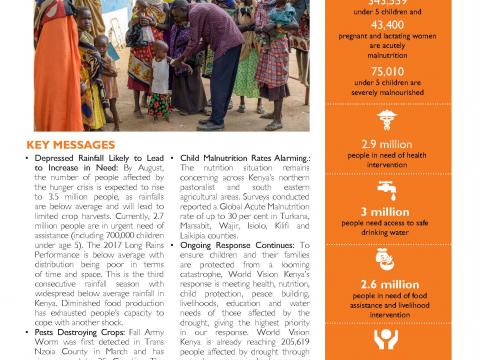 Situation Report 6
Tuesday, July 11, 2017
Additional support required: Kenya Hunger Crisis
World Vision Kenya is seeking an additional US $15.8 million to scale up life-saving humanitarian assistance to 252,000 more people facing starvation in 15 counties for the next 12 months. 
Depressed Rainfall Likely to Lead to Increase in Need. By August, the number of people affected by the hunger crisis is expected to rise to 3.5 million people, as rainfalls are below average and will lead to limited crop harvests. Currently, 2.7 million people are in urgent need of assistance (including 700,000 children under age 5). The 2017 Long Rains Performance is below average with distribution being poor in terms of time and space. 
Pests Destroying Crops: Fall Army Worm was first detected in Trans Nzoia County in March and has since spread to 25 Counties. The estimated affected areas as of mid- May are 148,000 Ha. This is expected to further worsen the food security situation as it has negative impact on crop production.  
Child Malnutrition Rates Alarming: The nutrition situation remains concerning across Kenya's northern pastoralist and south eastern agricultural areas. Surveys conducted reported a Global Acute Malnutrition rate of up to 30 per cent in Turkana, Marsabit, Wajir, Isiolo, Kilifi and Laikipia counties. 
Ongoing Response Continues: To ensure children and their families are protected from a looming catastrophe, World Vision Kenya's response is meeting health, nutrition, child protection, peace building, livelihoods, education and water needs of those affected by the drought, giving the highest priority in our response. 
World Vision Kenya is already reaching 205,619 people affected by drought through normal programming/early recovery supported by donors.