Mobile Support for Frontline Health Workers
World Vision's Digital Health Programming
Country Summaries

INDIA
Starting strong means that the start of life should be strong in the first 1,000 days from the start of a woman's pregnancy until her child's second birthday, offering a unique window of opportunity to shape a healthier and more prosperous future. The right nutrition during this 1,000-day window can have an enormous impact on a child's ability to grow, learn, and rise out of poverty. It can also have a profound effect on the long-term health, stability, and development of entire communities and nations. Read more...  
World Vision Indonesia, together with World Vision Canada, is piloting the use of mobile phones to improve nutrition service delivery including community-based growth monitoring and nutrition counseling.  The mobile phone initiative has been integrated into the existing national nutrition service delivery through the posyandu programme.  Read more... 

World Vision (WV) has developed an innovative mHealth solution to improve Community Management of Acute Malnutrition (CMAM) programming. The mHealth solution provides health workers (HWs) with an easy-to-use case management information resource—simple and powerful decision making and patient tracking tools that will enable a full continuum of care from the home to the health center. Read more... 
The 2015 Rapid Expansion Program / Niger Integrated Child Health Service (RAcE / NICe) projects were implemented in collaboration with the Ministry of Public Health of Niger and WHO. They are based on the management of diseases of children 2-59 months old at the community level through rural community health workers (CHWs). Read more...  
Together, World Vision Sierra Leone and the Ministry of Health and Sanitation in Sierra Leone are working to increase access to maternal, newborn and child health. In Phase 1, community health workers (CHWs) were trained in the delivery of Timed and Targeted Counseling (ttC), an evidence-based framework developed and tested by World Vision.

The project goal of the AIM Health Project is to empower and strengthen community health systems for positive maternal, newborn, and child health (MNCH) outcomes. The outcomes include improved knowledge and skills of community health workers (CHWs) to use mobile technologies to deliver behavior change communication messages, strengthened health information management systems (HMIS) through implementation of the MoTECH Suite solution at the facility level, and functional DHIS systems that provides real-time data to inform decision making. Read more... 
World Vision's global mHealth portfolio currently supports frontline health workers (including Community Health Workers) in 15 countries in Africa, South Asia, and Southeast Asia.   Read more...


Harnessing mHealth to reach every woman, every child

  mHealth: Building Partnernships for Sustainable Technology Enhanced Innovation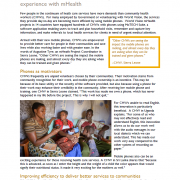 Voices from the Field: Community Health Workers' experience with mHealth


__________________________________________________