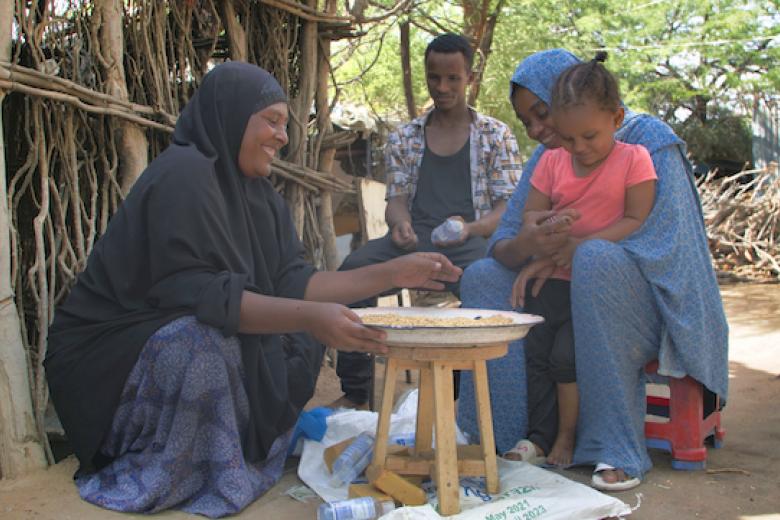 Refugees find joy and peace away from home at Dadaab Refugee Camps
Wednesday, February 23, 2022
By Martin Muluka, World Vision Communications Specialist, Kenya
Insecurity resulting from Incessant conflicts in Ethiopia forced Mohamed and his wife Zahra to flee their home. The quest for safety led them to Daadab Refugee camps situated in North Eastern Kenya.
Their plight is shared by thousands of other families and children that are increasingly filling the camp, as conflict in parts of Ethiopia and prolonged drought in southern Somalia continue to escalate.
Many families are usually glad to find a safe place to live upon arrival at the camp. Nevertheless, they suffer from loneliness and a sense of loss, as they grapple with living in new surroundings among strangers.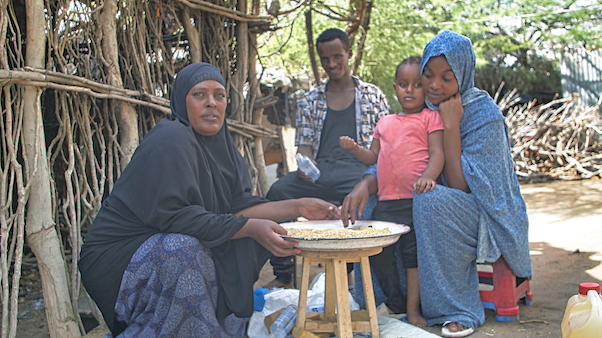 For these people, food distribution points at the refugee camp have become key meeting points and avenues for connecting with fellow country men or women that they may not be aware of.
In collaboration with the World Food Programme (WFP), World Vision staff working in the various food distribution centres at the Dadaab Refugee Camps often extend a helping hand to these new entrants and try as much as possible to make them feel at home.
"Without friendly people to welcome you, life can be very hard at the camp. I didn't know anyone when we arrived and I began asking around," says Zahra.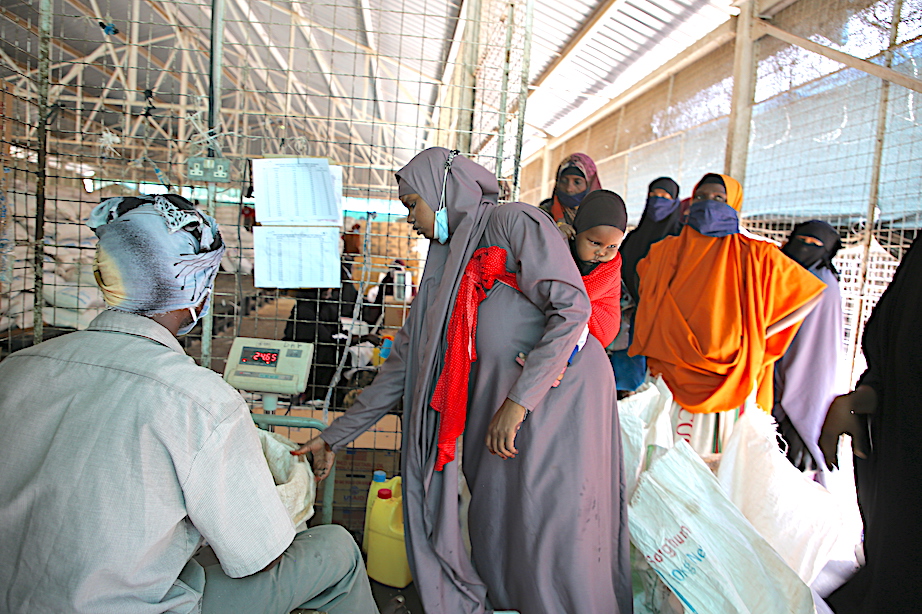 She eventually got a breakthrough upon visiting one of the food distribution centres managed by World Vision at the camp.
"We were helped by a World Vision staff who linked us to one of the Ethiopians working as a food scooper at the distribution centre. She is called Nyechan and she helped us to know where the Ethiopian settlement in the camp is located. We are now happy and at peace in our new home," states Zahra.
Nyechan is among the refugees that support World Vision in distributing food at Ifo and Dagahaley camps in Daadab.
"I was trained by World Vision and later recruited as a food scooper. I mainly distribute cooking oil to families that come to collect food in this centre. This is a job that I enjoy doing and it also gives me income for taking care of my family," states Nyechan.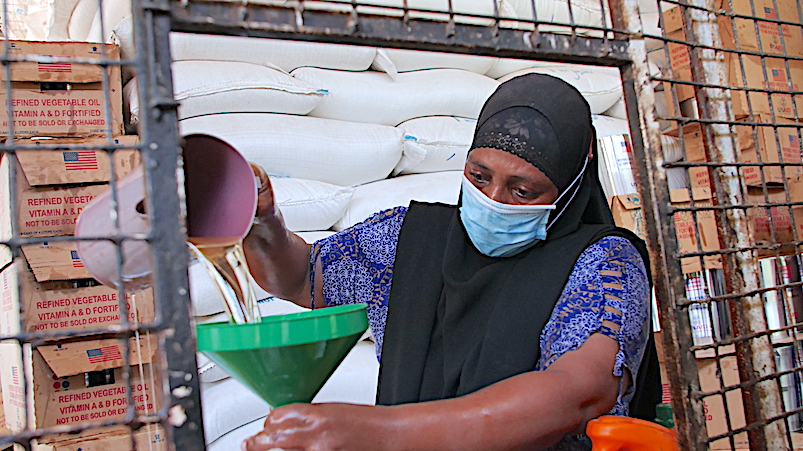 From experience, she notes that life in a refugee camp can be difficult and harder for new entrants, especially when they begin feeling nostalgic and missing their families.
"But when you live near people who speak your language and treat you as family, the feeling of sadness is reduced. For me, anyone I serve or meet is my family. So, I try to make everyone happy and joyful in any way I can," she says.
Aside from connecting with loved ones, the food distribution centres also ensure that refugees get sufficient food to sustain their families and improve their overall health and well-being.
Emmanuel, a World Vision manager at the Dadaab Refugee Camps notes that the organisation has partnered with WFP to distribute food to 28,000 households in two of the Daadab Refugee Camps (Dagahaley and Ifo). The food serves both documented and undocumented refugees.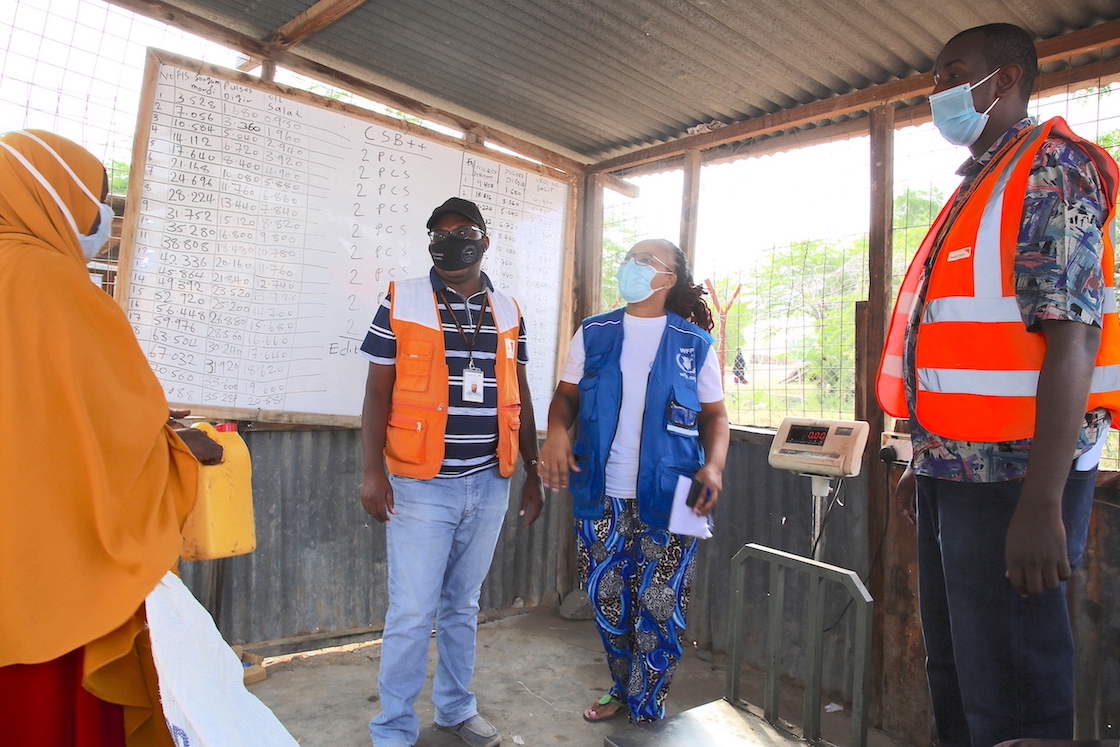 "I collect lentils, cooking oil, sorghum and supercereals [corn soy blend with sugar] which I use to prepare porridge that my child Nurta loves so much! The porridge supplements breast milk which sometimes is not enough," states Khadija, a lactating mother with a healthy baby aged seven months.
"Collecting food distributed by World Vision from this centre is easier because the service is faster and it is also organised. There is fairness in the distribution because food rations that each family is entitled to, are agreed and displayed on a board. If you feel dissatisfied, there is a complaint desk and independent weighing scales that I use to get my rightful share," says Halima, who wants Kassim, her six-month-old baby to grow up as a healthy child.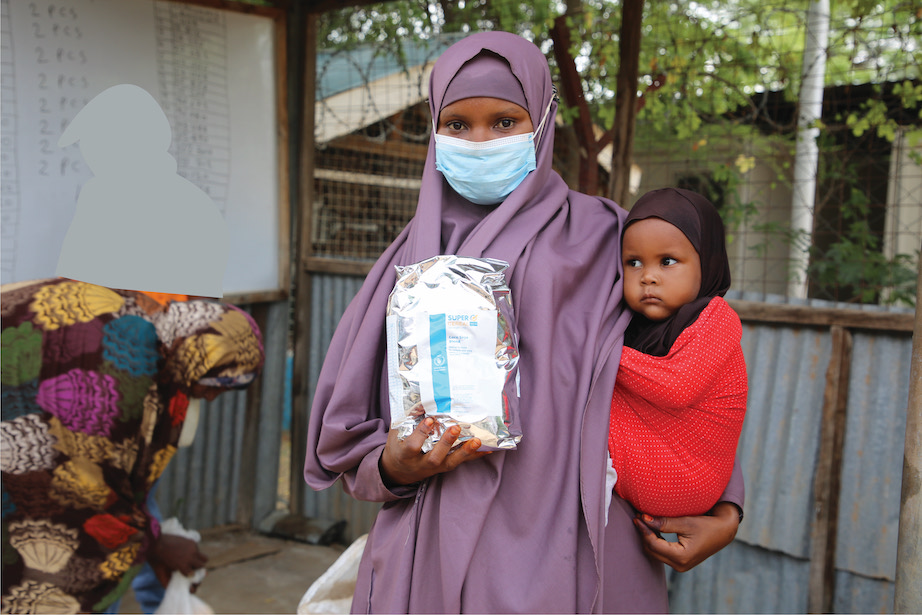 At the food distribution centre, World Vision uses its innovative Last Mile Mobile Solutions (LMMS) technology, which is designed to strengthen efficiency, effectiveness and accountability in food distribution.
Due to the crowds that form at food distribution centres, World Vision has been working with the government and other partners to put in place measures aimed at preventing COVID-19 infection at the camp.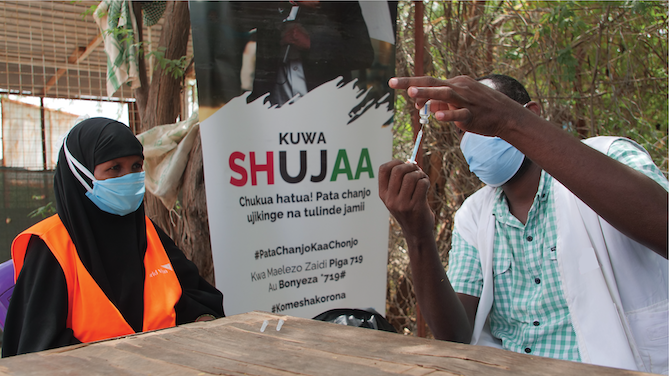 "Food distribution sites are potential areas where the risk of contracting the virus is very high due to the big numbers. World Vision has been instrumental in creating awareness and disseminating messages on the need to get vaccinated. During food distribution, we now have many people volunteering to get the jab and learning more about COVID-19 prevention measures like social distancing, mask wearing and washing hands with soap," says Abdi, a government clinical officer at Dagahaley Refugee Camp in Dadaab.
See more images of life at the Refugee Camp in the photo gallery below.