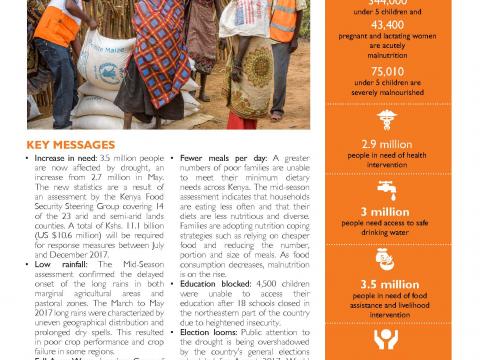 Situation Report 7
Tuesday, July 11, 2017
Kenya Hunger Crisis
Increase in need: 3.5 million people are now affected by drought, an increase from 2.7 million in May. The new statistics are a result of an assessment by the Kenya Food Security Steering Group covering 14 of the 23 arid and semi-arid lands counties. A total of Kshs. 11.1 billion (US $10.6 million) will be required for response measures between July and December 2017. 
• Low rainfall: The Mid-Season assessment confirmed the delayed onset of the long rains in both marginal agricultural areas and pastoral zones. The March to May 2017 long rains were characterized by uneven geographical distribution and prolonged dry spells. This resulted in poor crop performance and crop failure in some regions. 
• Fall Army Worm invasion: Cases of Fall Armyworm were reported in 23 counties with over 800,000 hectares threatened. 
• Fewer meals per day: A greater numbers of poor families are unable to meet their minimum dietary needs across Kenya. The mid-season assessment indicates that households are eating less often and that their diets are less nutritious and diverse. Families are adopting nutrition coping strategies such as relying on cheaper food and reducing the number, portion and size of meals. As food consumption decreases, malnutrition is on the rise. 
• Education blocked: 4,500 children were unable to access their education after 18 schools closed in the northeastern part of the country due to heightened insecurity. 
• Election looms: Public attention to the drought is being overshadowed by the country's general elections scheduled for August 2017. World Vision has developed a contingency plan to respond to any humanitarian issues that may arise during the election.